Daily Discoveries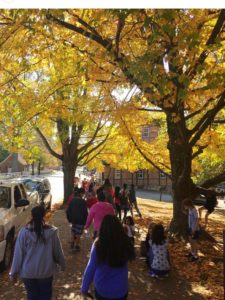 Every Tuesday
Salem Sleuth Day for Kids
District-wide Activities
Salem Sleuth is an interactive program for pre-kindergarden through middle-school aged children.  This program is designed for families of all sizes, groups such as day camps, day cares, youth groups, scouting groups, home school groups, etc.  Children will receive a "sleuth" mission to complete while touring the historic town of Salem.  Their mission will be to find the answers to the clues for select buildings and also to experience hands-on activities.  At the end of the day, once the mysteries are solved and activities accomplished, students may collect a prize at our Visitor Center.  This activity will be included with general admission all-in-one tickets.  Children must be accompanied by an adult.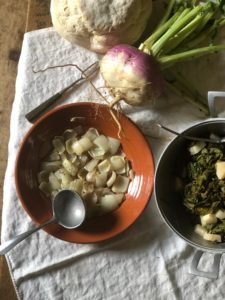 Every Wednesday
Hearth Cooking Day:  Cooking a mid-day tavern meal
Historic Tavern
Sit right down and join the Sisters every Wednesday in the Tavern Museum kitchen to see the way Tavern cooks, both enslaved and free, historically cooked for Tavern guests. As dinner was eaten in the middle of the day in the 18th century, most of the cooking was done in the morning and early afternoon. Stop by early to see the cooking in action and later in the day to see the finished meal.  The more questions you ask, the more fun you have!  This activity will be included with general admission all-in-one tickets.
Every Thursday
Botanist Day
The Doctor's House
Ludwig David von Schweinitz was born in Bethlehem, Pennsylvania in 1780.  He was a great-grandson of Count Nikolaus Ludwig von Zinsendorf, founder of the Moravian Church.  Early on he was a great student.  In 1807 he worked as a preacher in the Moravian church abroad where he received an honorary PHD for his work in the natural sciences.  After returning to the United States in 1812, he settled in Salem, North Carolina working as an administrator of church estates and lived in what had been built as the Dr. Samuel Benjamin Vierling House.   He is considered by some the "Father of North American Mycology" but also made significant contributions to botany.  In 1821 he returned to Pennsylvania and continued his studies until his death in 1834.  On Thursday's at the Doctor's House you can learn more about his important contributions to Salem and see examples of his work as a botanical artist.  You can even color your own print to take home.  This activity will be included with general admission all-in-one tickets.
Every Friday
18th Century Baking
Miksch House & Garden
Join Sister Hilary every Friday in the yard of the Miksch House to see the way Sister Henrietta Miksch historically baked her gingerbread to sell to customers over a period of about 30 years. You never know what will be on the menu for the day and you might just be asked to go out in the garden and grab one of the ingredients. Sit down, ask questions and enjoy the atmosphere of the totally immersive environment of the Miksch House.  The reconstructed brick beehive oven is stacked with wood and burned down to hot coals.  After the coals are removed, the oven is allowed to cool to the proper temperature before inserting trays of ginger cakes, bread, or other baked goods.  It is the heat from the hot bricks that bakes the delicious treats!  This activity will be included with general admission all-in-one tickets.
Every Saturday
"Quilting Frolic Day
John Vogler House
Take a seat, grab a needle and thread and follow in the legacy of Lisetta Maria Vogler Fries (daughter of Christina and John Vogler) and Bethie (a domestic woman who was enslaved at the Vogler House) and join us for a weekly Quilting  Frolic (Bee) at The John Vogler House every Saturday. Quilting Bees were times of social gathering and family discussions.
In many cases, quilts and needlework duties were shared activities between all house members (free and enslaved: click this link for more information about our Hidden Town Project and the enslaved in Salem). Come and join this gathering as we discuss the quilting process,  the history of the town of Salem as well as the complex narratives that joined to make it function and prosper.
This activity will be included with general admission all-in-one tickets.
Every Sunday
"A Moravian day of rest"
On Sundays, The Moravians in Salem worshiped in the Church and spent time with family and friends.  Visit us to see what it was like on this "day of rest".   Old Salem Museums & Gardens is open on Sundays.  The Visitor Center opens at 12:30 p.m. and the historic buildings open at 1:00 p.m.
Before the church was built, members of Salem's Moravian congregation worshipped in the "Gemeinhaus," which was built in 1771 on the current site of Salem College's Main Hall.   No ticket is required to visit Home Moravian Church for worship services.  The church is open for tours 1:30  – 3:30 pm from  March to mid December and when not in use.