Take Your Summer Camp or Group on an Adventure to Old Salem this Summer!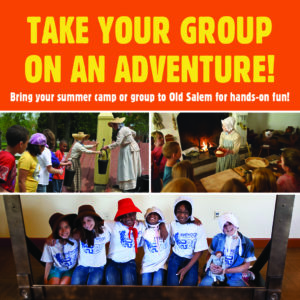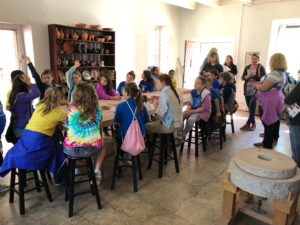 The sun is out!  Do you need a day-trip adventure for your summer camp or group?

Please Consider our "Footsteps thru History" Tour:

A flexible, self-guided tour for your group to explore the historic district of Salem.   There is a 10 minute orientation video, welcome and orientation at the Visitor Center.   After the welcome, your options are wide open to choose. There are over 12 interpreted sites, and 100 acres of landscape to experience. At every location, the students can interact with costumed interpreters through hands-on activities to learn about Colonial America and Moravian Salem in the 18th and 19th centuries.
Program Details:
Available Tuesday – Saturday, 9:30 am –4:30 pm.
Tours begin at the Visitors Center.
Tour takes approximately 3+ hours.
Come when you can, leave when you must.
Visit historic buildings of Salem and interact with costumed interpreters.
Includes visit to the Museum of Early Southern Decorative Arts (MESDA) self-guided galleries.
Minimum to book: 10 students.
Reservations are suggested.
Price: $11 per student.  One (1) complimentary adult per 10 students.
Additional adults are $23 if booked and paid in full with the reservation.
New Offering: We appreciate advance reservation (a week prior to visit), BUT we are very flexible! You may pay upon arrival.
Contact Group Tours at 1-800-441-5305, or tours@oldsalem.org for additional details. Please refer to our Access Salem Initiative for information regarding visiting as a caretaker or a student with a disability.

If you choose, your adventure might include:
"Salem Sleuth." Let the little ones enjoy Salem while they keep their eyes open in our scavenger hunt.
Winkler Bakery.  See how the beehive oven was used to bake bread, cookies, sugar cake and other treats for the town.
Miksch Gardens & House.   Learn how summer foods were prepared out of the garden and stored for the winter. We may be spinning yarn or making soap, so come find out what is happening today!  

John Vogler House "Quilting Frolic."  Unlike any other house museum, take a seat and chat while you try your hand at our group quilting party.
The Joiner's Workshop. Come and see the joiners as they work to restore the 1815 Blum House using the tools and techniques of the Moravian joiners for hundreds of years.  Try your hand at using a bench plane to prepare the wood for windows, doors, and shutters or see how they recreate an old world work bench initially made by the joiners in the 18th century. Be prepared to try your hand at the lathe or the hand-plane.  This stop is a place for those who like to try things out.
Boys' School.  Explore the cabinet of curiosities as well as the many other teaching tools used for learning music, geography, mathematics, natural history, languages and more! Impromptu concerts played on our pianoforte are not uncommon.
Gunsmith Workshop. From forge to file and from metal to wood.  A combination of materials plays a role in the gunsmith's trade. Explore the many specialty tools used in this shop.
Potter's Workshop. Our potters are ringing in the new year by restoring our molds to their former glory. Learn about the tools and process of 18th-century mold-work. 

T. Bagge Merchant. People come from all around to buy the unique items in our stores. We will have Saturday sales and live craftsman presentations. Take home one of our newly glazed pottery items.
Salem Tavern Museum Kitchen & Barn.  See how fresh food from the garden turns into tasty meals during the summer.
"Hidden Town" Room of Meditation & Reflection. Spend some quiet time in our room dedicated to those who were enslaved in Salem.
St. Philips Heritage Center. The entire family can learn about the African-American legacy that grew out of the Moravian town of Salem.
Museum of Early Southern Decorative Arts. From trees to tables and dirt to dishes, take a closer look at the tools, trades, and traditions, behind the amazing objects in our MESDA Galleries.
Single Brothers' House. Sit, lie down, open drawers, and journal in the unmarried men's communal living quarters. See what it was like to live in the 1700s.  Explore textiles in our tailor's shop, weave shop.  Don't miss our new "Salem Waterworks" exhibit or our textile craftsperson working the loom.
Doctor's House.  After a long winter huddling by the fire and eating root vegetables, 19th Century Moravians were ready for a feast of summer vegetables from the garden.  Come learn what they would have grown, eaten and preserved.
Visit the Merchants of Old Salem and take a look at our HANDCRAFTED SALEM +1766 Pottery and other handcrafted items.