Equity Initiative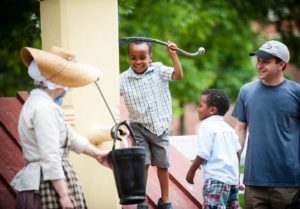 Understanding that cultural equity is not just programmatic, Old Salem Museums & Gardens has embarked on a process of self-reflection and review with the goal to have the organization represent the communities that surround us.  As an organization, we are dedicated to economic, cultural, ability, and racial diversity and inclusion. There are specific areas that will be targeted:
Staff (full-time & part-time). Review hiring practices to eliminate any latent bias at all levels of the organization.
As budget allows, provide a living wage for all employees.
Have the Board of Trustees' membership represent the larger community, as well as the Access and Equity initiatives.
Consider all levels of equity in business and vendor relationships.
Partner with outside organizations in ways that will expand our perspectives and engage new audiences.
Enact programming that expands the historic understanding of Old Salem and the diverse communities that lived, worked, visited, and were enslaved in the town.
Include other languages for interpretation in addition to English.