Winkler Baking Day
Saturday, September 29, 2018 10:00 AM - 5:00 PM Winkler Bakery
Saturdays through December 29, 2018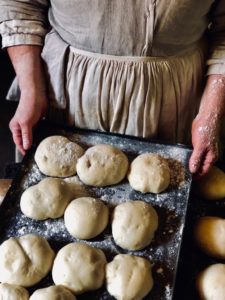 Grab an apron and help us fire up the beehive oven and bake breads and cookies.  As part of our Activate Main Street initiative, in addition to our long-established mercantile sales of baked goods, we are moving forward to expand Winkler Bakery into a more dynamic, engaging site by telling its history through not only its culinary offerings but through the actual baking experience itself.  We are excited about the new opportunity this special Saturday bake day will offer our visitors.
In addition to maintaining the retail sales of baked goods just as before:
Saturdays are "Winkler Baking Day" focusing on the traditional baking of Moravian treats (breads, sugar cake, cookies).
Our new signature program, "Salem Saturdays," will now feature baking experiences at Winkler Bakery, complete with interpretation. Visitors will be engaged in actually preparing the beehive oven and the food in a way that presents the full process of baking in an 18th – century brick beehive oven.
Winkler Bakery interior baking rooms have been established to facilitate a compelling hands-on visitor experience. Room barriers have been removed to allow for visitors to more intimately engage the baking process and the bake oven itself.
Winkler Bakery interior environment will be reorganized to accommodate new "Hands-On Baking Workshops" that will teach cooking methods involved with an 18th century bake oven.
The bake oven rooms will feature costumed staff whose role is to provide interpretation in the baking areas.
Winkler Bakery will now have expanded text panels and elements which will detail the Winkler family, the baking process, and "Hidden Town".