Welcome Message

WELCOME
I am so happy that you are joining us at Old Salem Museums & Gardens. It couldn't be a better time to experience all that we have to offer.  Fall 2018 brings the unveiling of our new "Salem Saturdays" featuring so many hands-on and interesting things to do that you'll need more than just a Saturday to enjoy it all! Our All-in One Ticket gives you 2 consecutive days to hang out with us, so go ahead and make plans to stay overnight and continue the fun. Our "Events & Programs" listing on our website will provide you with all the information you need to plan a great visit.  Make an effort to visit the new "Moravian Gallery" in the Museums of Early Southern Decorative Arts – we have added seating & children's exploration bags so that you can sit and enjoy the artifacts.

It doesn't matter if you're coming as a family, a school or church group, or making it a special day all by yourself, the historic district can accommodate your expectations and needs.  Be on the lookout for me because I am always out and about, sweeping the sidewalks, chatting on a bench in Salem Square, or taking a selfie with visitors.  I would love to meet you.
Old Salem is really about people, not buildings. Take time to talk with the costumed team, ask them questions, discuss the world around us – these are not merely "costumed actors" – they are highly educated, experienced public historians who love to visit with you!
We have much that is new and experimental (interpretations, craftsman spaces, way finding, maps), so make sure to tell me what you think. What should we change? Any problems?  Your comments really do matter to us.  Please email me at, President Frank, I would love to hear about your visit.
Franklin Vagnone
President & CEO, Old Salem Museums & Gardens
The Arts Council's Creative Conversations Featuring Old Salem President Frank Vagnone
Old Salem's new, controversial President is changing the way people experience history.
Old Salem President works to improve popular heritage site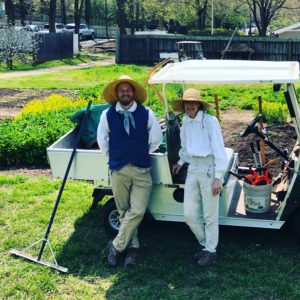 Our Mission:  Old Salem Museums & Gardens presents an authentic view of the rich cultural history of early Southern life to diverse audiences—with special emphasis on the Moravians in North Carolina—through the preservation and interpretation of historic objects, buildings and landscapes.
About Old Salem Museums & Gardens

In 1950, a group of dedicated volunteers established Old Salem, Inc. as a way to begin preserving and restoring the town of Salem for future generations.  As Old Salem grew, more buildings were restored and new facilities were added – including the Museum of Early Southern Decorative Arts (MESDA).
In addition to having two National Historic Landmark buildings, the Salem Tavern and the Single Brother's House, Old Salem was designated as a National Historic Landmark (NHL) District in 1966, and it's boundaries were redefined in the 1970s. Old Salem has worked since the 1990s to expand the historic district in order to more comprehensively encompass the broader Moravian experience and influence. In 2016 the National Park Service approved an expansion of the NHL district, including changes to the boundaries, additional time periods of significance, and more types of resources.