Dine & Stay
Food Stops within the Old Salem Historic District
Winkler Bakery
521 South Main Street
Selling hand-made breads and treats, Winkler Bakery sells traditional Moravian baked goods (cookies, bread, sugar cake, etc.). Phone:  (336) 721-7302
Monday-Saturday, 10:00am-5:00pm
Sunday, 1:00pm-5:00pm

Winkler Coffee House
521 South Main Street
Sit on the quiet back porch in a rocking chair while you sip on our great coffee and enjoy a view of the MOravian Home Church building. Tucked away in our upstairs coffee house are kitchen items, hand-made N.C. baskets, and more! Phone:  (336) 721-7302
Monday-Saturday, 10:00am-5:00pm
Sunday, 1:00pm-5:00pm
The Flour Box Tea Room & Café
137 West Street SW
Pastries, savories, sandwiches, salads, and tea service
Closed Mondays, Open Tuesdays through Thursdays 9:30 a.m. to 5:30 p.m.; Fridays and Saturdays 9:30 a.m. to 6:00 p.m; Sundays 11:30 am to 3 pm
Reservations accepted.  Reservation requested for Traditional Tea Service and for groups, maximum of 15.
www.theflourboxtearoom.com,  Phone:  (336) 201-5182
The Tavern in Old Salem
736 South Main Street
Serving lunch and dinner featuring locally farmed food, craft and draft beers, wine, and mixed drinks in an upscale casual environment.  Closed Mondays, Open Tuesdays through Saturdays: Lunch 11:00 a.m. to 3:00 p.m.;  Supper 5:00p.m.-9:00p.m; Sunday Brunch: 11:00 am to 3 pm
Reservations recommended. Phone:  (336) 722-1227, email: info@thetaverninoldsalem.ws, thetaverninoldsalem.ws
---
Old Salem Partner Hotels & Inn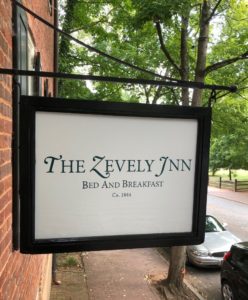 The Zevely Inn – 803 S. Main Street (in the Old Salem Historic District)
Throughout the years, The Zevely Inn has served as a home away from home for travelers to historic Salem, NC.  The Inn, which is listed on the National Historic Register, has been meticulously and accurately restored to its mid-19th century appearance. Our guests are not just visitors, but rather a part of a living 18th century restored Moravian town, which maintains the spirit, character and ambiance of its Moravian founders. Today it's the only place to stay within the historic district of Old Salem Museums & Gardens.
The Inn is named for Augustus T. Zevely (1816-1872), a saddler, doctor, and mayor of Salem. The house served as Dr. Zevely's office, and also functioned as an inn for travelers the Salem Tavern could not accommodate. The Zevely continued to be used as an inn until the turn of the 20th century, and subsequently became a private residence and then apartments.
To view accommodations and book your stay visit click here or call (336) 748-9299.   For special travel packages, click here.
The Historic Brookstown Inn – 200 Brookstown Avenue
Established in 1837 this Historic Inn is a charming getaway for your next visit to Winston-Salem! We thank the Brookstown for their continued support of Old Salem and for providing wonderful and convenient accommodations for our visitors. Phone:  (336) 725-1120.To visit their website click here. For a special holiday 2018 travel package, click here. 
The Kimpton Cardinal – 401 North Main Street
2018 Fall packages, including tickets to Old Salem Museums & Gardens, are available by calling 1-800-KIMPTON. To visit their website click here. Please see Visit Winston-Salem for a comprehensive list of dining and lodging options in town or view ratings from Winston-Salem hotels on TripAdvisor.