2019 Tom Blair Legacy Grant from the DataMax Foundation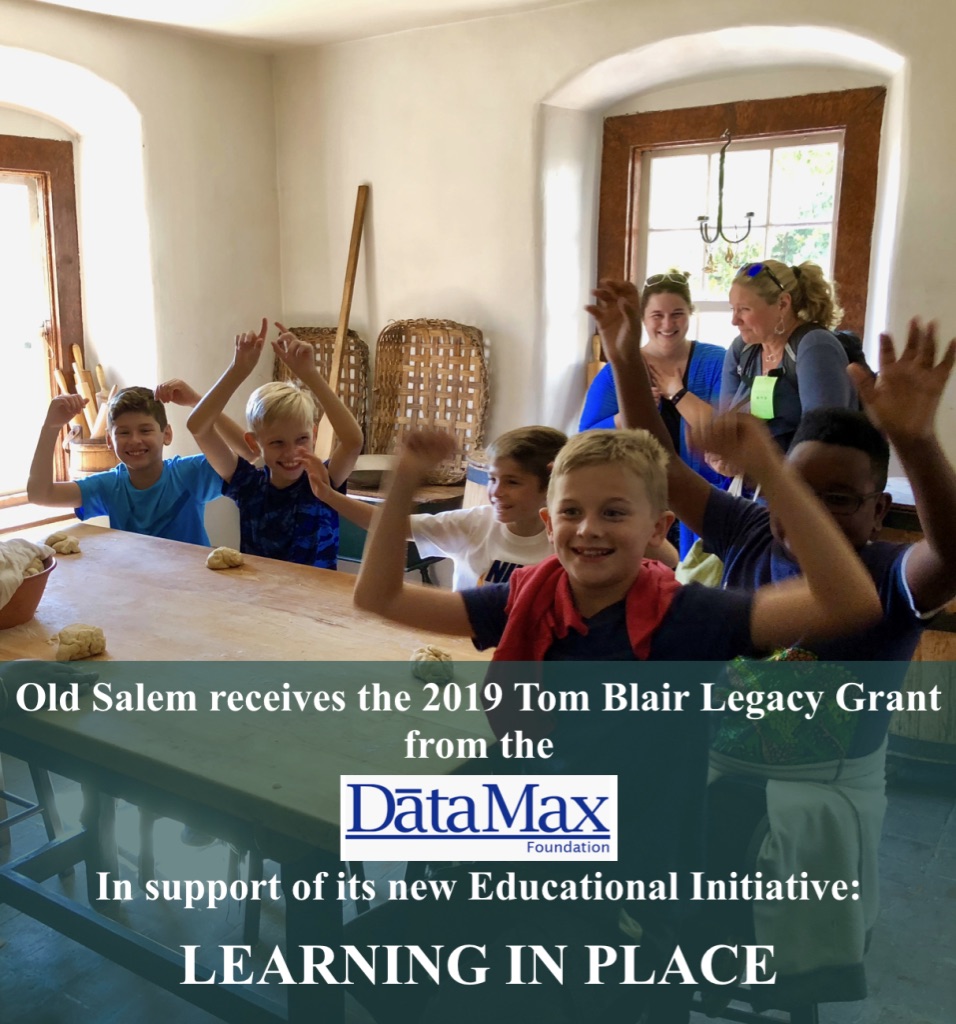 Old Salem Receives the 2019 Tom Blair Legacy Grant
from the
DataMax Foundation Grant
In support of its new Educational Initiative: LEARNING IN PLACE
Recognizing the value of sustaining top-quality educational opportunities for residents of Winston-Salem and Forsyth County, DataMax Foundation has awarded Old Salem Museums & Gardens a $50,000 multi-year grant in support of its new educational Initiative Learning in Place.
 "DataMax Foundation is so proud to support Old Salem in this exciting and energizing Learning in Place program. We are also proud to honor this grant by naming it our Tom Blair Legacy Grant for 2019. Tom Blair was president and CEO of DataMax Corporation for 30 years and was instrumental in the formation of our Foundation," said Emily Forrest, DataMax Foundation's Director of Philanthropy."
"Old Salem not only exudes history, but now innovation as they re-cultivate approaches to education. The Learning in Place Initiative will be an amazing asset to our community and we are enthusiastic to watch it develop," she said."
Following a strategic re-evaluation of its core mission, Old Salem has introduced a series of groundbreaking initiatives designed to expand Old Salem's history narrative. Franklin Vagnone, President & CEO of Old Salem said, "We are honored to be awarded the Tom Blair multi-year grant in support of our Learning in Place initiative. This investment will support the education of the 45,000 school children who visit Old Salem each year while also helping Old Salem contribute to the community's economic base.
 "Contributions from partners who see the long-term value of our transformation are fundamental to keeping Old Salem alive and vibrant.  We are grateful that DataMax is one of a growing number of corporate partners and individuals who view an investment in Old Salem's transformation as an investment in our community."
 Considered one of the most innovative heritage sites in the United States, Old Salem Museums & Gardens attracts 440,000 visitors annually, including 45,000 school children.  Old Salem employs about 170 full and part-time staff, has a regional economic impact of over $48 million a year and generates $3.34 million in tax revenues for the state and county.  "Old Salem has an extraordinary reach and we thank DataMax for understanding that," Vagnone said.
 About Learning in Place
Learning in Place takes the historic ideals of education and invites partnerships with educational institutions (elementary through higher education) to create place-based learning opportunities for students and for adult professionals seeking curriculum-based and continuing education courses taught within the historical context of the subject.
 About Old Salem
Voted the 2019 #1 Tourist Attraction in North Carolina (AAA), Old Salem Museums & Gardens is a unique living history site with a tactile-driven, immersive visitor experience. Its museums—the Historic Town of Salem, the Museum of Early Southern Decorative Arts (MESDA), and the Gardens at Old Salem are quickly becoming nationally known for innovative and novel interpretive models and programs. Old Salem Museums & Gardens is located at 600 South Main Street in Winston-Salem. For more information call 336-721-7300 or visit oldsalem.org.