Winter Fair: Redwork (19th Century Embroidery)
Thursday, December 27, 2018 1:00 PM - 3:00 PM Salem Stitches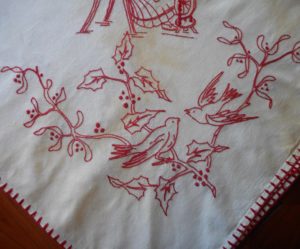 Workshop Description:  Experience history hands-on!  Redwork, hand embroidery using red cotton floss, became popular in the mid to late 1800s when E.A. Vogler built and operated the "The Ladies Furnishing Store," now known as the Moravian Book & Gift Shop. It is fitting to offer a workshop at Salem Stitches. Muriel Riggs, a local textile arts instructor and Redwork aficionado will conduct a hands on learning experience showing her collection of Redwork textiles and teaching the finer points of hand embroidery using red cotton thread. Each participant will work on their personal sampler to bring home. Ages 10 +. Beginners welcome and all supplies included.
Cost:  $50 per person for Redwork Workshop only.
Workshop Location: Salem Stitches, 151 West Street, or Rear entrance at Moravian Book and Gift.
*Maximum of 15 per class. Beginner Friendly or Beginners welcome and all supplies included.  Children under 18 must be accompanied by a paying adult.  Due to the highly interactive nature of these workshops, adults are not allowed to observe or tag along with a child unless they have also registered. If participant cancels more than 14 days before the event, a full refund will be given.  Within 14 days there are no refunds. For more information call 1-800-441-5305.