Flags of Old Salem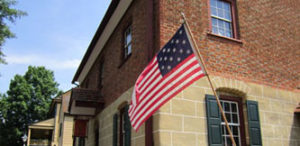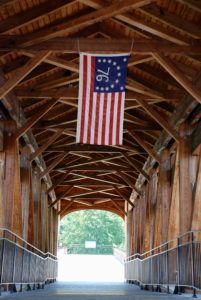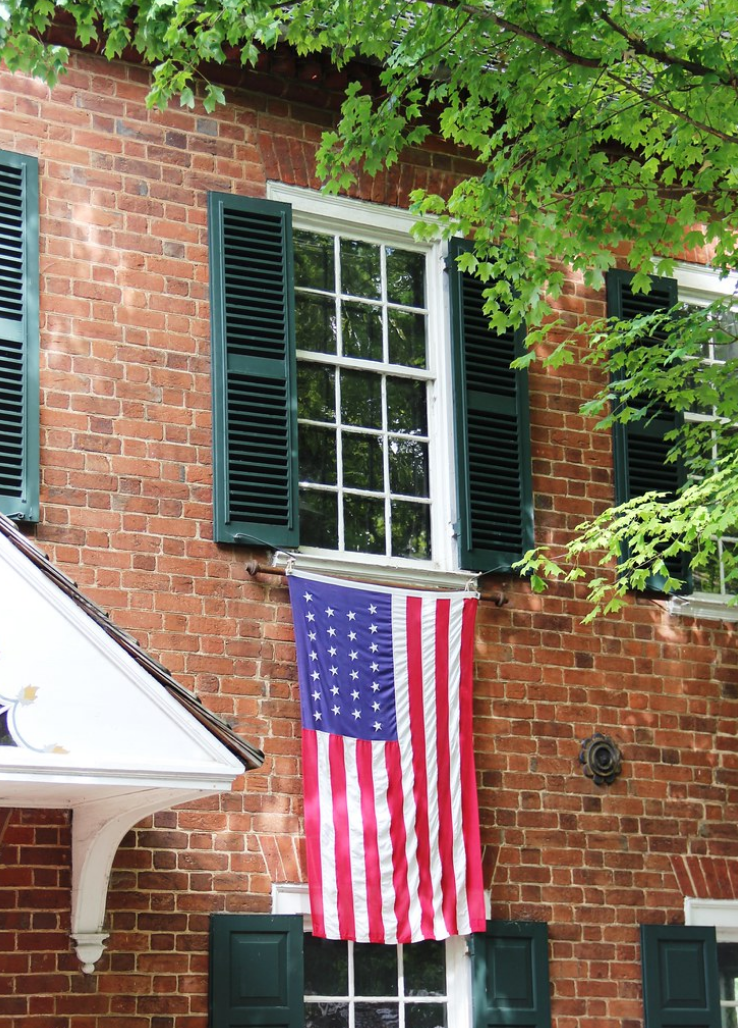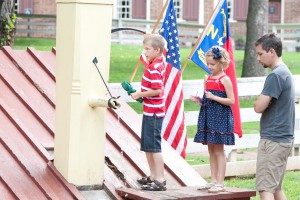 As you tour Old Salem, you may see historic flags flying from our buildings representing the time period of each.  These flags will be flown until fall.  Many of our residents also display flags of the period on their homes.  The information below will help you identify each flag:
Miksch House – Grand Union, 1775
Also called the Congress Colors, the First Navy Ensign, and the Cambridge Flag.  It has 13 red and white stripes representing the Thirteen Colonies and the red cross of St. George of England and the white cross of St. Andres of Scotland.  John Paul Jones raised this flag on the frigate USS Alfred in December 1775 and it flew over Washington's headquarters in Cambridge, Massachusetts in January 1776.  Although people in Salem probably would not have flown a flag to maintain their neutrality, this is the correct flag for that time period.
Salem Tavern – Washington's Flag, 1776
This is the headquarters flag of General George Washington, Commander-in-Chief of the Continental Army.  This flag flew over Washington's headquarters throughout the Revolutionary War.  It is shown at the Tavern because George Washington boarded at the Tavern in 1791 as a part of his Southern Tour.
Tavern Barn – Guilford Courthouse Flag, March 1781
On March 15, 1781 a battle was fought not far from Salem at Guilford Courthouse.  A few days prior to the battle Salem diarists record that many wounded men were staying in Salem and there was a constant passing of militia in and out of town.  The day after the battle, on March 16, they note that two officers were passing through on their way back to South Carolina, and a Hessian soldier arrived in town after deserting during the battle.  Although there is no historic documentation of this flag being used in the battle, the stories that were passed down with it are closely tied to Guilford Courthouse.  This flag is preserved in the North Carolina History Museum in Raleigh.
Winkler Bakery – Star Spangled Banner,  1795-1818
This flag was created by the Flag Act of May 1, 1795 adding two additional stars and stripes when Vermont and Kentucky became states.  This is the only flag to have more than 13 stripes.  This flag flew over Ft. McHenry on September 13, 1814 when the British attacked.  The flag inspired Francis Scott Key to write the Star Spangled Banner song that became our national anthem.
The remaining flags are versions of the Star Spangled Banner and our current 50 star flag.  They have 13 stripes and various numbers of stars depending on the date and number of states in the Union at that time.  Congress passed the Flag Act of 1818 specifying 13 stripes and 20 stars (the number of states at the time).