Important Message from Old Salem
Dear Friends,
As always, the health and wellness of our visitors and staff remains a top priority to Old Salem's leadership. Along with cultural organizations across the country, we are closely watching the spread and impact of COVID-19. Employing guidance from our state and local health departments, the Centers for Disease Control (CDC) and the NC Department of Natural and Cultural Resources, we have provided ongoing updates to our visitors and staff about the best ways to protect themselves and limit the spread of the virus.
However, as COVID-19 continues to spread, we have determined that the best course of action is to temporarily close the museums to the public effective at the close of business today, Friday, March 13th, 2020. Our museum colleagues, both in North Carolina and nationally, are taking similar steps to protect the public and limit the spread of the virus.
We may be closing, but you can still get a unique Old Salem experience from home!
Recognizing the impact this decision may have on school groups and individuals who were scheduled to visit the historic district, we are pleased to announce the Old Salem EXPLORATORIUM, a series of 5- to 10-minute experiences that will bring you into direct visual (but not physical!) contact with our master craftsmen and educators. Each episode gets you "up close and personal" with our craft workshops, seed-saving lab, archaeology lab, gardens, Museum of Early Southern Decorative Arts, and collections.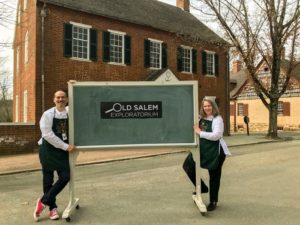 Watch Episode 1: Geology, Pottery, and Place
Learn more about the Old Salem EXPLORATORIUM
We will continue to monitor this rapidly changing situation and provide you with regular updates on our website, Facebook, and Instagram as the situation evolves. Until then, please be safe and remember to wash your hands!
With best wishes,
Frank Vagnone
President & CEO