Meet the Learning In Place Team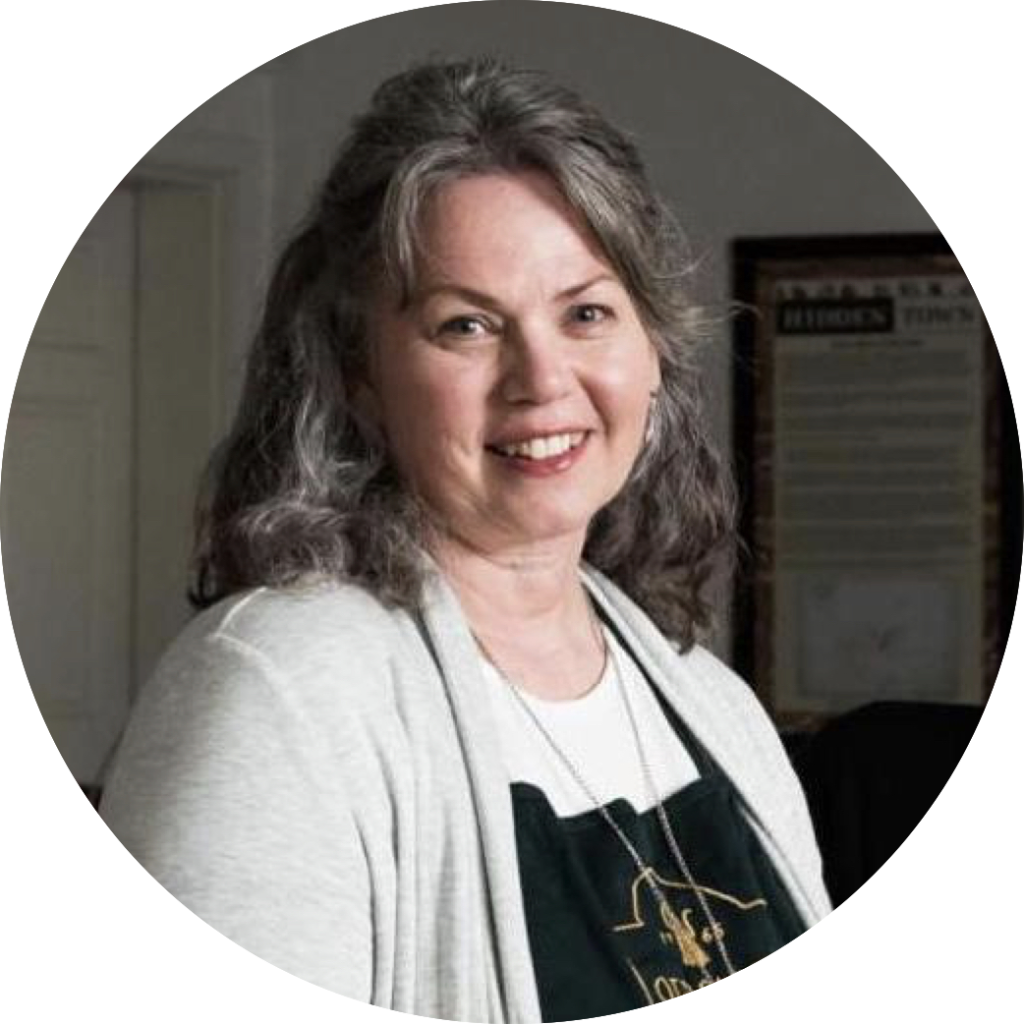 Karen Walter, Director of Learning in Place, is a former K-12 school counselor and administrator who enjoys the pursuit of information and thrives on watching learners have those "light bulb moments" where learning and comprehension come together to created understanding and knowledge. As a college student, Karen Walter purposed to work in the schools and to also someday work at Old Salem Museums & Gardens/Museum of Early Southern Decorative Arts (OSMG & MESDA). After 20 years in public, private, and higher education, coupled with educational consulting, Karen Walter made the move to OSMG & MESDA, where she joined the staff in 2015 as a Museum Educator. In her role as Director of Learning in Place, Karen Walter leads a dynamic team that consists of professional educators and talented interpreters/craftspeople who are reimagining the educational landscape at OSMG & MESDA, making it a place sought after by 21st-century learners of all ages.
Joel Cook joined Old Salem Museums & Gardens (OSMG) in 2020 as Education Coordinator for Hidden Town Programming. In this role, Joel gives oversight to the development of educational programming that focuses on the history of the enslaved and freed people of African descent living in Salem, NC. Joel brings an extensive background in educational programming to the museum. A trained historian and archaeologist, Joel has developed African American programming for Cowpens National Battlefield, as well as served as an interpreter for several other history sites in the country. Joel is also completing his master's degree in Maritime Studies at East Carolina University, writing his thesis about submarine chaser development during the First and Second World Wars. In addition to his work at OSMG, Joel is studying clawhammer banjo.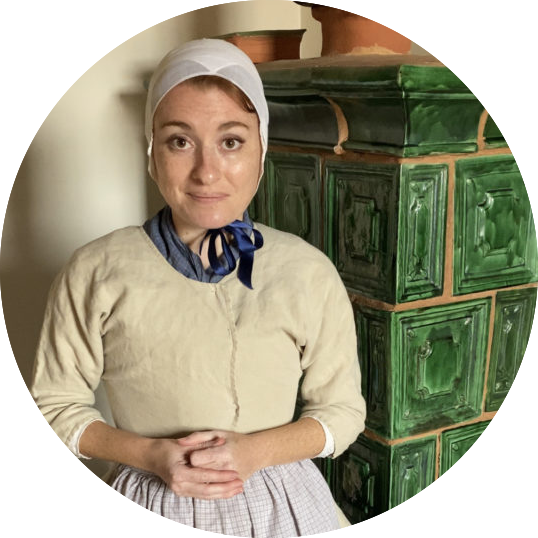 Tara Logue is an Education Coordinator and potter at Old Salem Museum and Gardens, who also heads up the Salem Out of Bounds initiative which seeks to pull the narrative fabric of Salem out of the eighteenth century and into the here and now by collaborating with contemporary artists and performers. You may know Tara from tours in the pottery or as the talkative redhead on our TikTok page. With a background in fine arts and education from UNC Asheville, Tara taught Middle School art in the public school system and specialized in ceramics and printmaking before joining the Old Salem team. She has now been at Old Salem for 4 years, making pottery, writing standards-based cross-curriculum lessons, and researching everything she can get her hands on. When she's not making things, she's probably out gardening, and when she's not doing that, she's probably drinking tea and learning about making more things.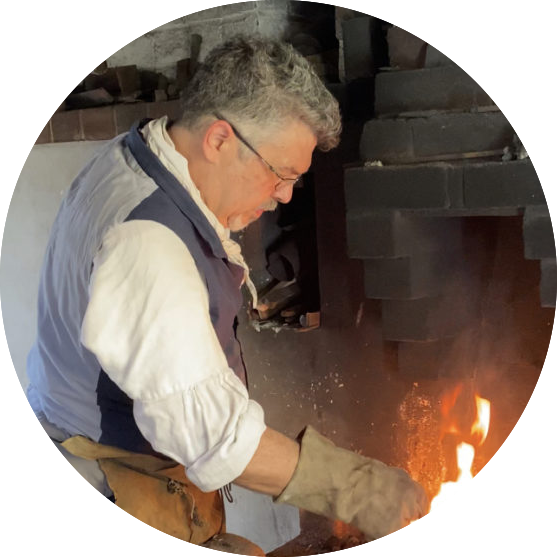 For more than two decades, Education Coordinator and gunsmith Blake Stevenson has honed his skills as one of the foremost experts on Salem longrifles and eighteenth- and early nineteenth-century American gunsmithing. Before arriving at Old Salem in 1996, Blake spent time working for the National Park Service. In 2000, Blake became a Historic Trades Manager and began delving deeply into Salem's historic reputation for excellent gunsmiths. In 2001, Blake curated the exhibit Gunsmith's of Salem and the Vogler Family of Artisans and was a part of the team that researched and restored the 1831 Timothy Vogler Gunsmith Shop on Main Street in Salem, the oldest active gunsmith shop in America. As a working gunsmith, Blake is skilled across several trades including woodworking, blacksmithing, silversmithing, and the mechanical arts. Blake has presented widely on Moravian material culture and the building of longrifles to audiences large and small. In 2020, he co-authored The Longrifle Makers of the Salem School with Michael Briggs.
Emily Miller, one of the Education Coordinators at Old Salem Museums and Gardens, has worked in education in North Carolina for almost twenty years. She taught elementary students in Graham, Chapel Hill, and Clemmons. She directed a preschool in Davie County for three years, and she taught middle school science for four years in Winston-Salem. Emily began working at Old Salem Museums and Gardens as a Historical Interpreter in 2018. The following year, she became a Museum Educator, teaching students through Hands-on History tours. Her current position allows her to bring learning into the context of 18th and 19th century life in Salem, with a focus on STEAM (Science, Technology, Engineering, Arts, Math) subject areas.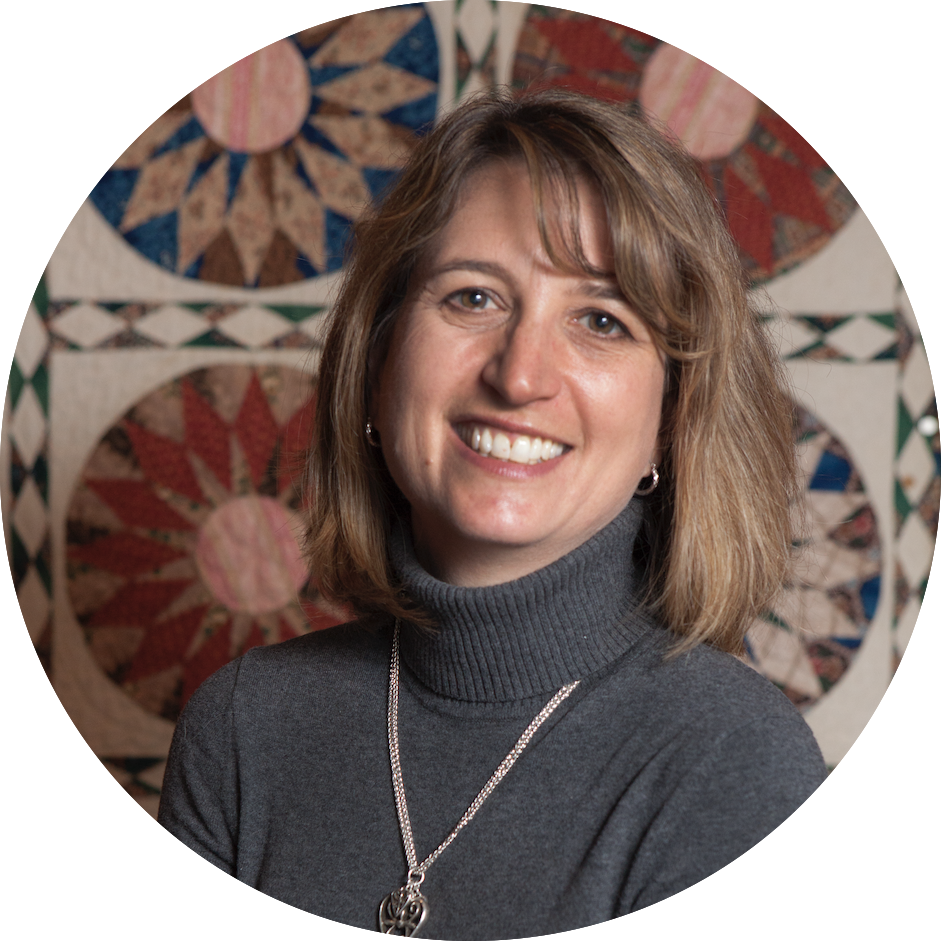 Jenny Garwood is an Education Coordinator and the Adjunct Curator of Textiles for the Museum of Early Southern Decorative Arts (MESDA). She has been with MESDA since 2007 where her primary focus of research and study has been with the textile collection. Jenny has developed many education initiatives at MESDA including "A Closer Look" and "Exploration Bags", specifically for children and those with special needs. In addition, Jenny has lectured at conferences including the Henry D. Green Symposium of the Decorative Arts and as the Emerging Scholar for the Decorative Arts Trust. Her research on southern textiles has been published by the Georgia Museum of Art and The Magazine Antiques.
About Old Salem's Learning in Place Initiative
"Every philosophy is, like poetry, an aspiration to joy and every poem is a tool for knowledge."
Initiative Description: Organizing experience in a narrative form to build collective meaning
LEARNING IN PLACE is a new Old Salem Museums & Gardens educational initiative organized around the concept that history can be the framework upon which contemporary life-skills and educational opportunities can be experienced. Far from merely an enjoyable nostalgic environment with costumed staff, Old Salem Museums & Gardens is an educational institute capable of presenting deeply philosophic, complex, and curriculum-based subjects through purposeful interpretive educational innovations.
LEARNING IN PLACE seeks to actively investigate the relationship between the built environment (buildings & landscapes) and the experiences of those who inhabited them (narration). The initiative seeks to use place in poetic ways that present the historic district as the physical "chalkboard" for teaching and the Moravian narratives as the "text" in discussing contemporary life skills.
The LEARNING IN PLACE initiative will be tasked with:
The continued transformation of the interpretive activity within the Old Salem historic district toward immersive and experience-based tactile activity.
Using the Moravian experience as the framework, create, formulate, and execute new place-based, real-world themed narratives expressed through innovative educational engagements byre-envisioning the existing interpretive model to manifestly engage visitors with experiences that incorporate the arts, communication arts, mathematics, social studies, science, and the world of work.
Particular attention to be focused on
In addition to History scholars, expanding the education team to include experts in a wide range of disciplines such as the arts, science, communication arts, mathematics, science, and career-technical education.
K-12 curriculum needs of school districts within a 5-hour travel time to Old Salem Museums & Gardens.
The emergence of Old Salem Museums & Gardens as a professional service provider for educators. Adult hands-on
The particular needs of Title 1
The HIDDEN TOWN
Goals:
Form substantive partnerships with colleges and universities for the exchange of ideas and information through research, teaching, conversation and collaboration.
In partnership with Salem College, offer place-based learning professional development opportunities for educators.
Collaborate with area K-12 schools whose demographic profile suggests that having access to Old Salem Museums & Gardens and its educational programming may be challenging for the purpose of engaging these students, faculties, and families in Old Salem.
Significant efforts have been made towards reaching these goals:
Welcomed Wake Forest University as a program partner for the Hidden Town Project. WFU serves as a sponsor for the Elizabeth Chew lecture and is a contributor in our public archaeology efforts.
Introduced collaborative project with the Digital History program at Middle Tennessee State University. PhD candidates from MTSU's Digital History program initiated the incredibly informative "Hidden Town in 3D" project to record the historic area through digital photography with the goal of creating a platform for consideration of the landscape with the enslaved population.
Partnered with Middle Tennessee State University's Department of History in the 2018 Summer Institute at the Museum of Early Southern Decorative Arts (MESDA) here at Old Salem to provide in-depth, practice-based education in the decorative arts and material culture of the early American South with a focus on the contributions of the enslaved population.
Established a new collegiate internship program with Salem College and Wake Forest University now providing student interns to assist with Hidden Town research efforts.
Formed a partnership with UNC-School of the Arts, and Winston-Salem State University to re-imagine the music of the Afro-Moravians in Salem through the production of "The Sounds of Hidden Town."
Collaborating with North Carolina State University on a ground resonance study of the Old Salem historic district to locate sites of possible slave dwellings as part of the Hidden Town Project's continued research.
Entered into a partnership with Appalachian State University and the Appalachian State University Academy at Middle Fork to develop K-5 social studies curriculum for the lab school, provide educational outreach programming for the students and staff, and serve as a host site and collaborator for ongoing teacher training. In exchange, ASU faculty has provided engagement and accessibility assessments of our tour sites.
Established a relationship with Salem College's Department of Education to create a Teacher Institute that will provide place-based professional development opportunities for K-12 educators.