Learning in Place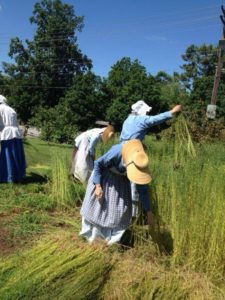 The Moravians of 18th century Salem brought with them a commitment to education for all. Their zeal for education had its beginnings in the 1600's when Moravian bishop and educator, John Amos Comenius, advocated for the education of girls. The Moravians continued to advance his ideals through their commitment to educating both girls and boys. In establishing the town of Salem, the Moravians built two schools – one for the boys and another one for the girls. The girls' school continues to operate today as Salem Academy & College.
Old Salem Museums & Gardens values the role of education in the history of Salem and seeks to make our heritage site a place of continued discovery, learning, and sharing. Learning in Place takes the historic ideals of education and invites partnerships with colleges and universities to create place-based learning opportunities for their students and for adult professionals seeking continuing education courses taught within the historical context of the subject. Promoting learning that is grounded in our unique history, environment, culture, economy, literature, and art, Old Salem Museums & Gardens is an active classroom in which the discoveries made within this framework will be shared with those outside of our historic district.
Goals:
Form substantive partnerships with colleges and universities for the exchange of ideas and information through research, teaching, conversation and collaboration.
In partnership with Salem College, offer place-based learning professional development opportunities for educators.
Collaborate with area K-12 schools whose demographic profile suggests that having access to Old Salem Museums & Gardens and its educational programming may be challenging for the purpose of engaging these students, faculties, and families in Old Salem.
Significant efforts have been made towards reaching these goals:
Welcomed Wake Forest University as a program partner for the Hidden Town Project. WFU serves as a sponsor for the Elizabeth Chew lecture and is a contributor in our public archaeology efforts.
Introduced collaborative project with the Digital History program at Middle Tennessee State University. PhD candidates from MTSU's Digital History program initiated the incredibly informative "Hidden Town in 3D" project to record the historic area through digital photography with the goal of creating a platform for consideration of the landscape with the enslaved population.
Partnered with Middle Tennessee State University's Department of History in the 2018 Summer Institute at the Museum of Early Southern Decorative Arts (MESDA) here at Old Salem to provide in-depth, practice-based education in the decorative arts and material culture of the early American South with a focus on the contributions of the enslaved population.
Established a new collegiate internship program with Salem College and Wake Forest University now providing student interns to assist with Hidden Town research efforts.
Formed a partnership with UNC-School of the Arts, and Winston-Salem State University to re-imagine the music of the Afro-Moravians in Salem through the production of "The Sounds of Hidden Town."
Collaborating with North Carolina State University on a ground resonance study of the Old Salem historic district to locate sites of possible slave dwellings as part of the Hidden Town Project's continued research.
Entered into a partnership with Appalachian State University and the Appalachian State University Academy at Middle Fork to develop K-5 social studies curriculum for the lab school, provide educational outreach programming for the students and staff, and serve as a host site and collaborator for ongoing teacher training. In exchange, ASU faculty has provided engagement and accessibility assessments of our tour sites.
Established a relationship with Salem College's Department of Education to create a Teacher Institute that will provide place-based professional development opportunities for K-12 educators.