From the Desk of President Frank
---
---
Fresh Coat Initiative 2022
---
Fresh Coat Initiative 2021
Video Updates & Old Salem in the News
Everything You Need to Know About Old Salem's Land Sale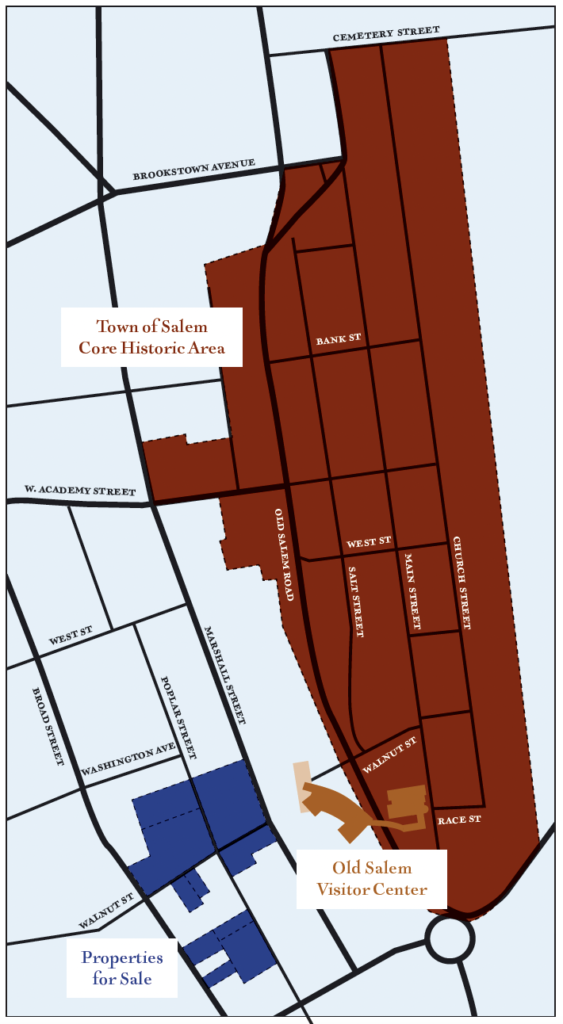 Since its founding in 1950, Old Salem Museums & Gardens has been protecting the core of the town of Salem's Historic District by buying properties, restoring buildings and landscapes, and then selling them back into private ownership. This type of revolving preservation effort is at the core of Old Salem's mission and stewardship of the over 100-acre landmarked district. In the 70 years since its founding, Old Salem Museums & Gardens has been involved in 240 land and home purchases and sales.
Hayes Wauford, Chair of the Board of Trustees, states, "By the use of deed covenants, we are able to ensure that the properties around the Historic District will be developed in a way that is consistent with the residential nature of the areas around Old Salem. With the improvements and modifications to the Strollway, including the new Strollway pedestrian bridge, access and connection to downtown Winston-Salem will be improved and the area around Old Salem will become more and more connected to the city that surrounds it. We hope that the sale of the land will be a significant enhancement for the quality of life for the area."
"The purchase and sale of properties within, as well as outside the Historic District, has been part of an ongoing, long-term strategy for Old Salem," Wauford continued. "In fact, since Old Salem's inception in 1950, Old Salem has been an organization that takes the long view of stewardship. We are excited that the sale of these properties west of Marshall Street is a continuation of this long-term strategy."
Press Coverage
---
Presentation to City Council on April 28, 2021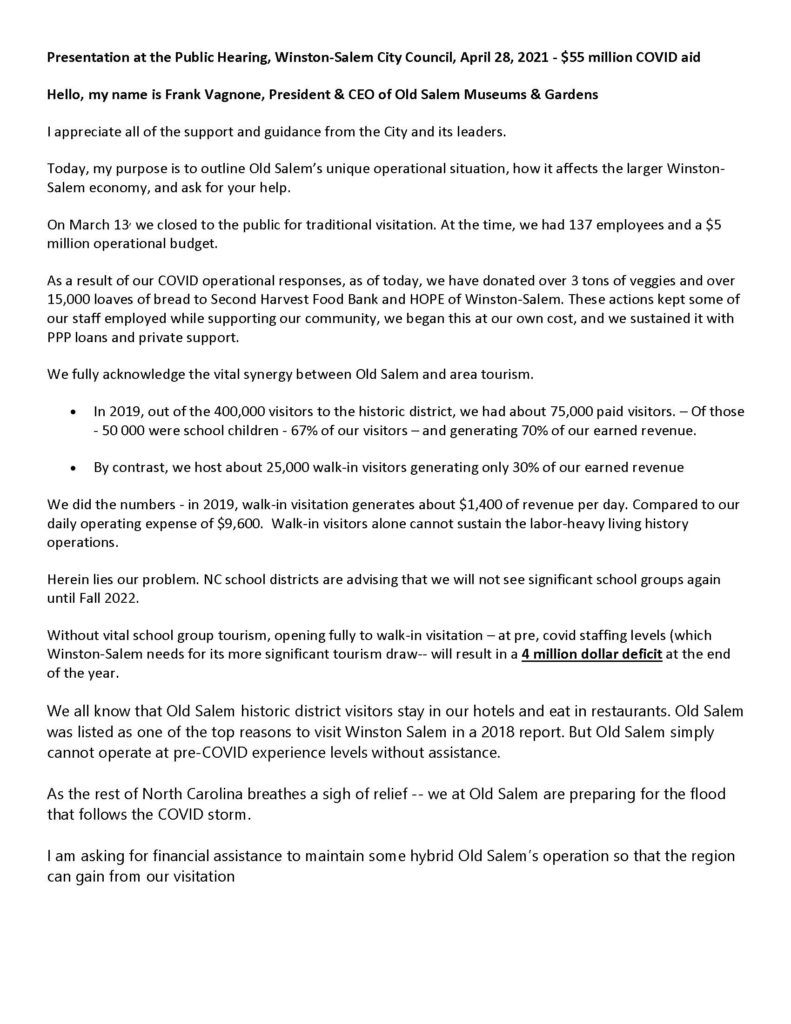 ---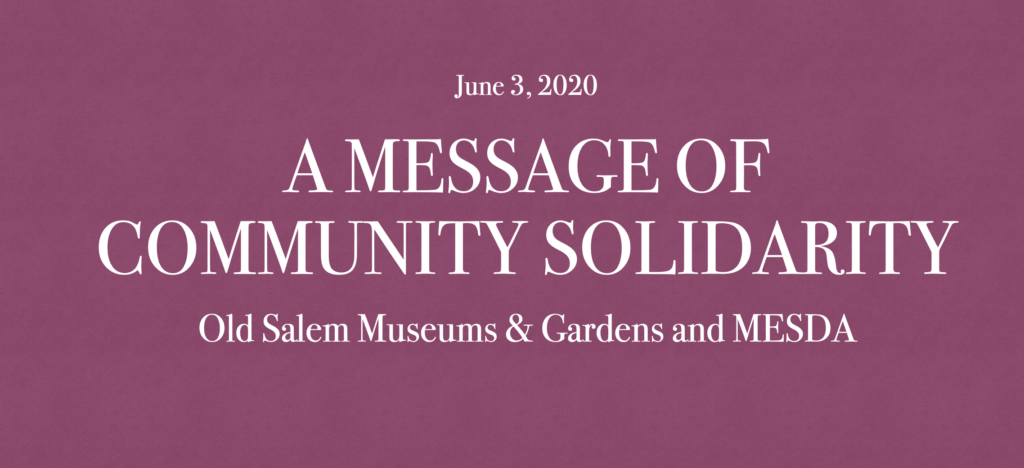 A MESSAGE OF COMMUNITY SOLIDARITY
Dear Friends,
At this particularly anxious time of civil unrest, we join and wish to amplify our national museum leaders' and local leaders' statements: Lonnie Bunch, Secretary of the Smithsonian Institution; Paul Edmonson, President of the National Trust for Historic Preservation; Mayor Allen Joines, Winston-Salem.
For centuries, the people of the Piedmont region of North Carolina–indigenous and foreign-born, Black and white, Moravian and non-Moravian, have experienced periods of great turmoil and unrest. The political views held by Salem's residents spanned the ideological spectrum during settlement, the American Revolution, the Civil War, Reconstruction, Jim Crow, and the Civil Rights Movement, which continues to this day with the Black Lives Matter Movement. As stewards of Old Salem Museums & Gardens, we are often presented with complicated histories and opposing memories and are responsible for bringing these histories and memories together to share authentic, fully inclusive narratives.
During periods of social and political upheaval, we believe that honestly looking to the past can center us, contextualize the complexities of the contemporary world, and help us all to be better people. As one of the stewards of our community's history, we have a heavy responsibility to be an open source of information and support as our nation works together to build an informed path forward towards racial justice and equality. We have a commitment to research and explore diverse and important stories from Salem's history, including the stories of free and enslaved people of African descent through our Hidden Town Project, the stories of indigenous peoples who experienced settler colonization and removal through our Cherokee Advisory Committee, and the lives of the Moravian settlers.
Old Salem is dedicated to providing a safe, equitable, and thoughtful place for everyone. We are here to help facilitate conversations, provide context, and support, however we can, to people in our community who are hurting, and have been hurting for days, months, years, generations. We want to be a place where the community can come together and learn from our shared history in order to inform a more just and compassionate future.
With Great Respect,
Franklin Vagnone
President & CEO
Old Salem Museums & Gardens/
Museum of Early Southern Decorative Arts
---
Who We Are: We are a historic site and museum combating food insecurity and exploring the stories of people, including Moravian, Black, and Indigenous peoples, in the American South. As one of America's most comprehensive history attractions, our museums—the Historic Town of Salem, the Museum of Early Southern Decorative Arts (MESDA), and the Gardens at Old Salem—engage visitors in an educational and memorable historical experience about those who lived and worked in the early South. Old Salem is also the site of the Museum of Early Southern Decorative Arts (MESDA) which contains the finest collection of its kind in the nation, featuring architecture, furniture, ceramics, metalwork, needlework, paintings, prints and other decorative arts made & used by the early settlers of the American South.
Our Mission: Old Salem Museums & Gardens shares the rich, authentic, and diverse cultural history of the early South–with special emphasis on the Moravians in North Carolina, enslaved and free people of African descent, and Indigenous peoples of the Southern Woodland, through the preservation and interpretation of material culture, architecture, and cultural landscapes.
Our Institutional History: In 1950, a group of dedicated volunteers established Old Salem, Inc. as a way to begin preserving and restoring the town and gardens of Salem for future generations. As Old Salem grew, more buildings were restored and new facilities were added–including the Museum of Early Southern Decorative Arts (MESDA) and St. Phillips Moravian Church. In addition to having two National Historic Landmark buildings, the Salem Tavern and the Single Brother's House, Old Salem was designated as a National Historic Landmark (NHL) District in 1966. The dedicated staff at Old Salem have worked since the 1990s to expand the historic district and engage community stakeholders in order to share a more authentic and diverse history of Salem and the early South. In 2016 the National Park Service approved an expansion of the NHL district, including changes to the boundaries, additional time periods of significance, and additional resources that allow us to share a more comprehensive history of Salem and the neighboring freedmen's community of Happy Hill.