Guidelines for Visitors & Media
Photography Policy

We are very happy for our visitors to take non-flash photographs while they are enjoying the interiors of interpreted buildings as well as the historic district streetscape. To protect the quality experience for our ticketed guests, and private residents, Old Salem Museum and Gardens staff, may need to restrict the time, manner, and location of photography on Museum property at any time without advance notice.
Click here for the Photo Policy –  Photography Policy-2018.  The application and payment can be brought to the Old Salem Visitor Center during normal operating hours.  For additional information, please contact [email protected] for more information.  All photographers must read and comply with the following detailed rules.  Violation of the rules may result in fines from the City of Winston-Salem and/or misdemeanor arrest:
Professional/Commercial photography (family portraits, engagement sessions, proms, weddings, holiday, etc.)  is not allowed without explicit approval and a permit from Old Salem Museums & Gardens.
Private Large group photography (family portraits, proms, weddings, holiday, etc.) by non-ticketed visitors for personal use is strongly discouraged during regular museum operating hours.
Film and Video Production location scouts and producers can contact [email protected] for more information.
Media-related Photography  is allowed with prior notification and approval from Capture Public Relations & Marketing at 336-722-9660
Drones are not allowed on any Old Salem Museums & Gardens property (as per FAA laws)
Media Policy, Purchase & Reproduction of images


As one of the country's most authentic and comprehensive history attraction, Old Salem Museums & Gardens in Winston-Salem, North Carolina, welcomes your interest in learning more about the life of Moravians and early Southerners living in the 18th and 19th centuries. Old Salem's Marketing Division is glad to assist you in arranging any interviews or obtaining photographs and information you may need to complete your story or project. Please make advance arrangements with the Marketing Office before interviewing interpreters, researchers, or other museum personnel. We ask this so our museum staff may focus on providing the best possible experience for our visitors.
All news media inquiries should be directed to:
Steve Bumgarner, Capture Public Relations & Marketing ([email protected], 336-722-9660)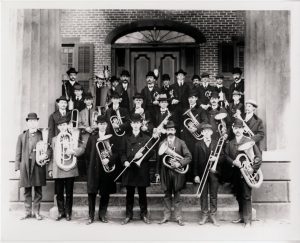 Purchasing Images / Rights & Reproductions:
We encourage you to use and share our photos! Most image files on this website have been formatted to look beautiful in slideshow presentations. Any of our images, including those of the museum collection, may be used without prior permission for personal, educational, and fair-use purposes as defined in the United States copyright laws. Please credit images as "Courtesy of Old Salem Museums & Gardens" whenever possible.
To purchase hi-resolution images files or acquire permission to reproduce images commercially, including those from the Old Salem Historic Photograph Collection (searchable via Digital Forsyth) and the museum collection, please complete our Photo Purchase Form and mail the completed form with payment or call 336-721-7365 or email [email protected] for credit card orders.
By downloading, printing, or otherwise using images, whether accessed directly from the Old Salem website or via other sites or mechanisms, users agree that they will limit their use of such files to non-commercial, educational, personal, or fair-use purposes and will not violate the museum's or any other party's proprietary rights.
Call 336-721-7365 or email [email protected] for more information.
Pet Policy

Beagles, cockatoos, goats, and all other pets are welcome to walk on the streets and sidewalks at Old Salem Museums & Gardens—provided they are leashed.  The City of Winston-Salem can fine pet owners who do not obey the city-wide "leash law" ordinance.  Only service animals with proper identification are allowed inside of the buildings at Old Salem, and no pets are allowed in the historic gardens or cemeteries.  If your pet is thirsty, stop by the Old Salem water pump on the southwest corner of Salem Square on S. Main Street.  You can pump free water there, 24/7.  If you are looking for a place where your dog can run free and play off leash, go to the nearby Dog Park, a one-acre fenced lot located in Washington Park off of the Broad Street entrance (the address is 1490 S. Broad Street).