Holidays 2022
The 2022 Holiday Programming runs from Wednesday, November 16 to Saturday, December 31.
Scroll down to find details of the 2022 Salem Saturdays at Christmas and Salem Night!
---
Salem Saturdays at Christmas
10AM – 4PM on November 19th & 26th, December 3rd, 10th, & 31st, 2022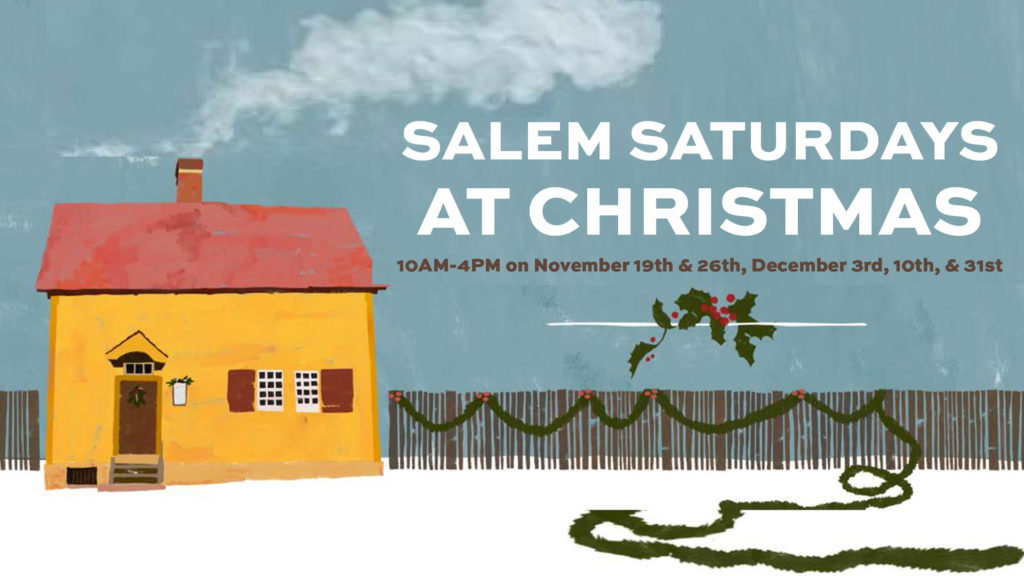 Join us in Old Salem this holiday season! Learn how the historical town of Salem created an environment of celebration and reflection in the solitude of this rural landscape. A Moravian Christmas in North Carolina has a distinctive southern quality. A slight nip in the air, an abundance of greenery, the intricate putz, decorated pyramid trees, and of course baked treats from Winkler Bakery make for a unique learning experience.
Purchase Advance Holiday All-In-One Tickets Here!
During the holidays, we invite you to experience:
The Visitors Center Enjoy the new exhibits and shop for a souvenir at Stockberger Supply.
Heritage Bridge Take a walk under the stars on one of Old Salem's most photographed features, the Heritage Bridge. The cascading Moravian stars provide a wonderful welcome to the historic district.
The Frank L. Horton Museum Center (including The Museum of Early Southern Decorative Arts) See objects made and used by the diverse craftspeople of the early American South, including the beautiful pieces made by the Moravians, and shop for books at F. L. Horton Bookseller that features a wide variety of books related to decorative arts of the American South.
Potter's Workshop at T. Bagge Chocolate cups and toys are the order of the day at the Pottery in Old Salem. Learn about Salem's pottery history while seeing our talented potters at work.
The Blum House Joinery Workshop See how historical woodworking was done in the town of Salem and the craftsmanship that made the Moravian trades shops famous.
Miksch House & Garden Observe how a family celebrated Christmas in the early days of Salem. Painted illuminations tell the story of Christmas. Intricately carved cookie molds make their annual appearance. Lamps, lanterns, and candles used to light the dark days of winter are demonstrated.
The Doctor's House Explore the history of Moravian medicine and examine the contributions of African and Cherokee people to the health of those in and around Salem. Experience the trimmings of yuletide in one of Salem's largest family homes. From wintertime tonics to seasonal hearth cooking, this early 19th century home and apothecary is sure to be a treat.
The Boys' School Children in Salem went to school just like children today. Learn about education in Salem, as well as Christmas traditions such as the pyramid, the putz, and the beloved Moravian Star. Musical performances and historical games will also be featured this holiday season.
The Single Brothers' House This building was home to many of Salem's boys and men. As a combination of a dormitory and a trades hall, it offers an intimate perspective on Moravian culture, faith, and daily life. Experience the lifestyle of a congregation community while learning about the trades, tasks, and shenanigans of many of Salem's real historical people.
The Butner Hat Shop Your children can visit St. Nick's workshop, tell him what they want for Christmas while you snap a photo! (excluding December 31)
Seed Saving Lab The gardens in Salem are always at work. Learn how gardens support the community, what is growing in the gardens at this time of the year, and how the seeds tell stories.  
Winkler Bakery Always a "must do," enjoy a visit at Winkler where Sister Deb will share the bakery's history, including the beehive oven. Our famous sugar cake, cookies, and lovefeast buns will be available for purchase (along with lot of other sweet things).
Moravian Book & Gift The store will be humming with the sights and sounds of Christmas, including local crafts, gifts, ornaments and décor. Pick up some Christmas presents while you're there!
Muddy Creek Café Soups, salads, and sandwiches make for a great lunch.
Salem Stitches The gathering spot for quilters, sewists, and stitchers!
---
Salem Night
1PM – 7PM on Saturday, December 17th, 2022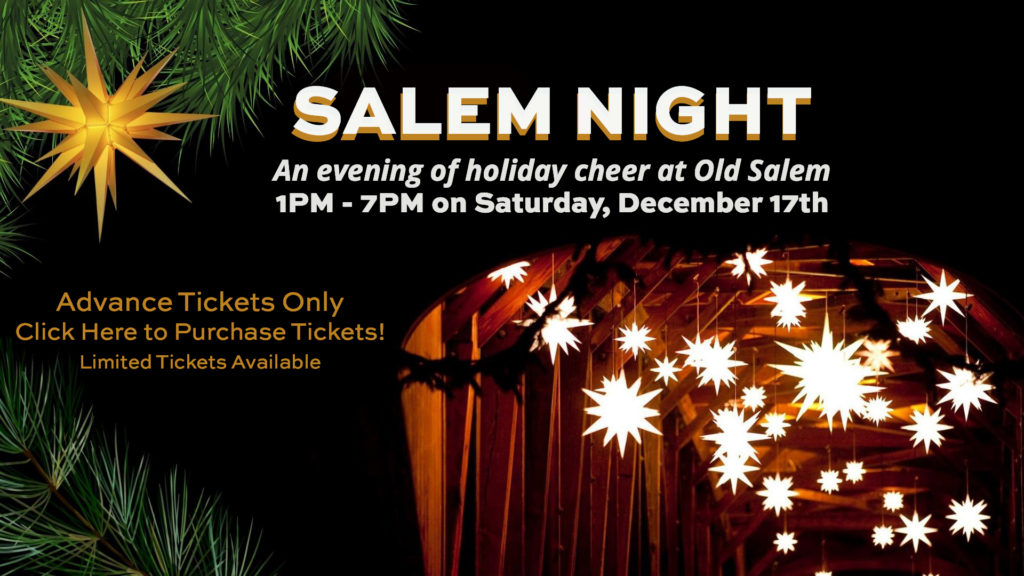 Salem Night at Old Salem is the time to slow down, leave the busy holiday season behind and reflect on family & friends. Join us for this once-a-season special candlelight evening of open, warm, and inviting Christmas experiences. From music in the Single Brothers House, to children's games in the Boy's School, baking in the beehive oven in the Winkler Bakery, and the smell of hearth cooking at the Doctor's house. The historic district will be alive with the festive presence of the holiday. This is a perfect opportunity to bring visiting family to make a Christmas season tradition. Our retail stores will be open for any last-minute gifts you may need (Or save some sugar cake for yourself). TICKETS ON SALE NOW.
Horse & Buggy rides Festive evening rides will be available with a separate purchase.
Winkler Bakery Visit Winkler Bakery and see the beehive oven in action, Grab some of our festive baked treats, cookies, lovefeast buns, and breads to take home and enjoy with the family.
Miksch House & Gardens Come on up to the house, and see how the earliest family homes in Salem celebrated Christmas. Traditional molded cookies and painted illuminations will be just the thing for a heartwarming evening.
The Doctor's House Come see a Christmas Putz, the ancestor of the modern Christmas village displays. Gather hearthside for a demonstration of cooking a seasonal meal. And what would the Doctor be up to in the Winter months? Treating seasonal ailments with tonics of all sorts for Wintertime healthcare.
The Blum House Joinery Workshop Sit and enjoy the fire, see how traditional wooden toys were made on the turner's lathe and experience the magic of how a block of wood makes its journey to being a beautiful object full of memory.
The Boys' School School's out! But you can still experience the Cabinet of Curiosities while you listen to a selection of Moravian music. See what kind of games would have occupied children and families in the historical town of Salem.
Potter's Workshop at T. Bagge Always an exciting time in our pottery workshop. And which pottery is most festive for the holidays? Hot chocolate cups of course! Come see how pottery was made in early Salem and which clay creations would have caught a child's imagination during the season of toys and cheer.
Single Brothers' House Join us in the Saal gathering room to listen to Christmas hymns, organ demonstrations, and other festive music.  See how the Moravian single brothers prepared for the winter season (and kept warm) in the 1700's.  
The Butner Hat Shop Your children can visit St. Nick's workshop, tell him what they want for Christmas while you snap a photo!
Moravian Book & Gift Squeeze in your last minute Christmas shopping with local crafts, gifts, ornaments and décor, right here, in the historic district.
Salem Stitches Enjoy a special Quilt Show featuring local quilter Robin Thomas showcasing her award winning quilts including two featuring Old Salem architecture. Shop for customized ornaments and seasonal cross-stitching items.
Muddy Creek Café A hot Moravian chicken pie dinner is the special for the evening while Muddy Creek Café extends their hours for the festivities. Open until 7 pm with beer, wine, and craft sodas for all your crew's mealtime hankerings.
---
We look forward to welcoming you this holiday season!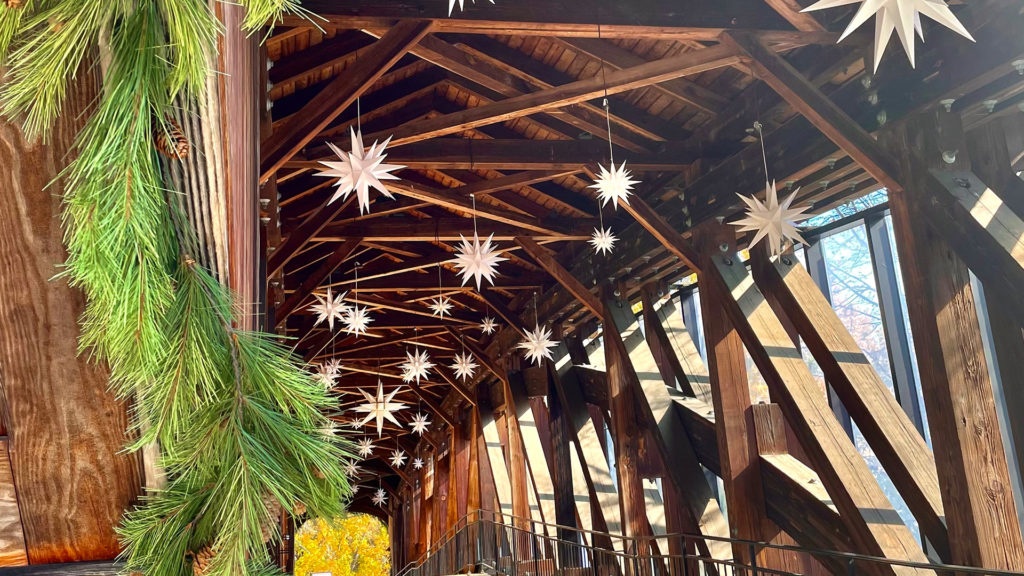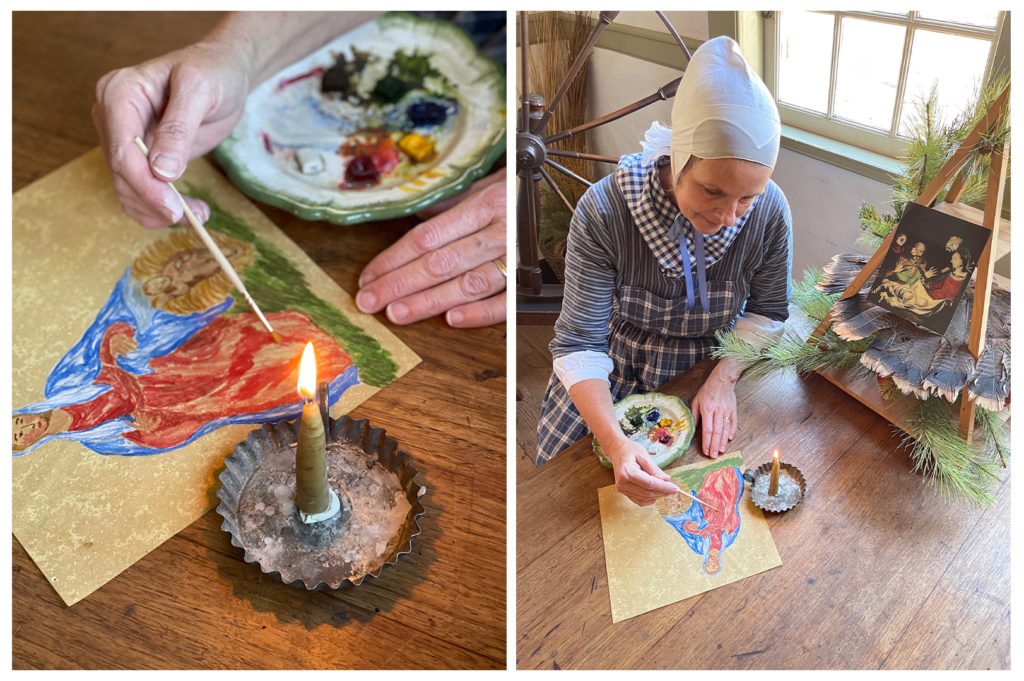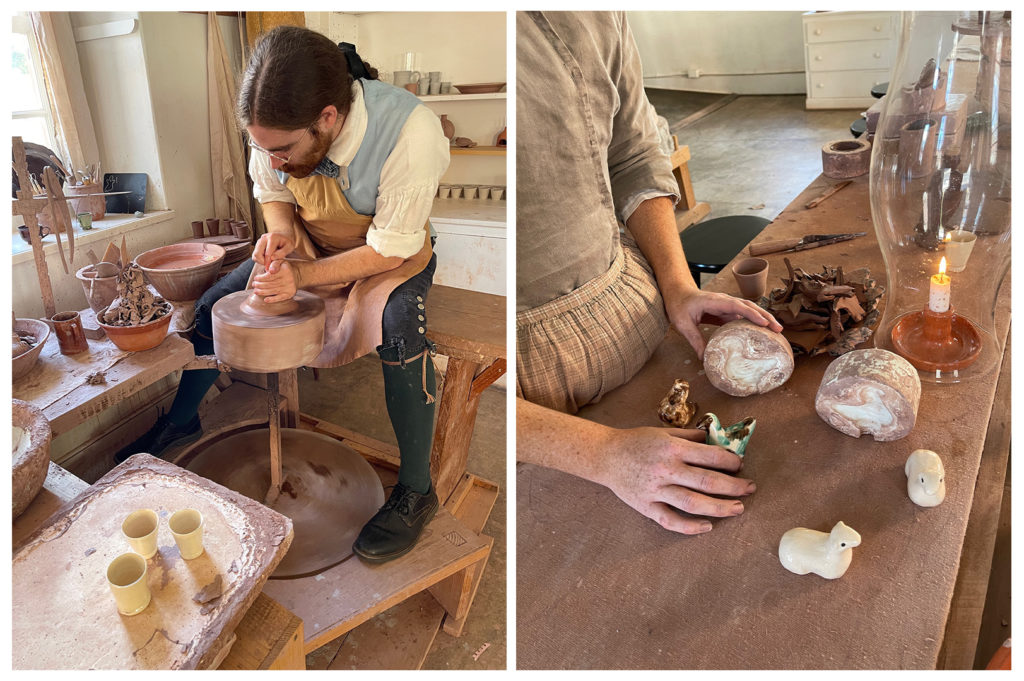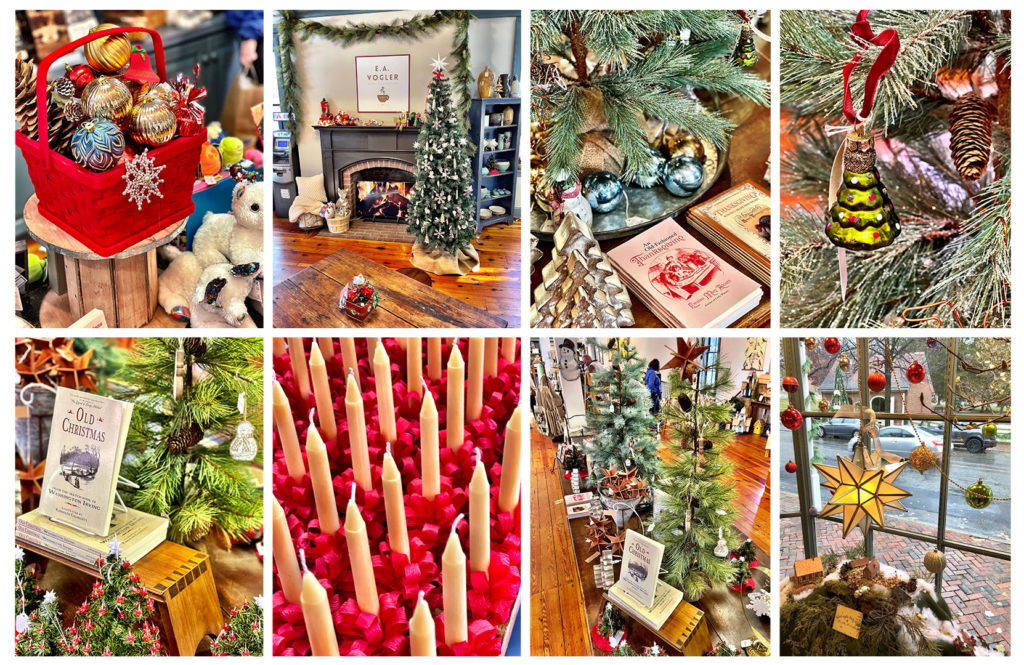 Follow us on social media to get the most up-to-date information!