Access Salem: For Those With Disabilities

Old Salem Museums and Gardens (its Board of Trustees, Advisory Committees, and Staff) is dedicated to achieving the highest possible degree of access for all visitors. Old Salem is considering a wide spectrum of needs from cognitive impairments, autism spectrum awareness, sensory limitations, and language processing abilities to mobility restrictions (all ages). The immediate goal of this initiative is to fully assess the built environment of the historic district to outline needed changes and responses to actual physical access limitations. The long-term goal is to transform the Old Salem experience into one that deeply engages our visitors no matter of physical or cognitive challenges. These experiences should take into consideration our everyday interpretation as well as special programming and community events. Statistics reflect the need for a public heritage site such as Old Salem to significantly move toward a visitor experience that is adaptable for those with special needs. In most cases our disabled guests travel with caretakers, thus expanding the number of visitors affected by inherent experience obstacles.
Click here to download a printable PDF of our Access Salem chart.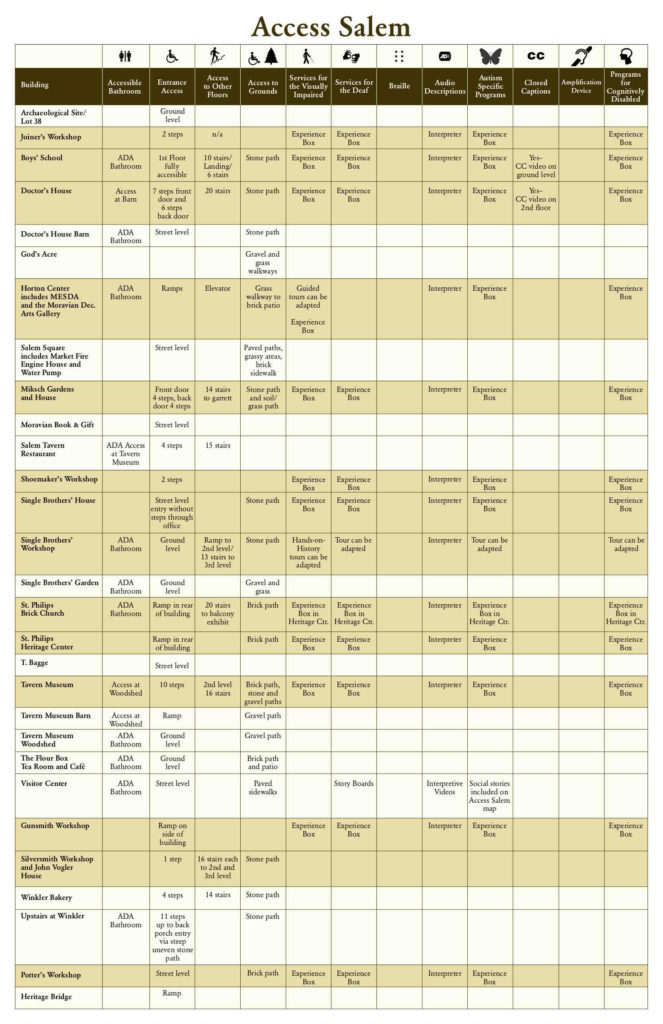 ---
Exploration Boxes: See, Hold, and Touch History!
Available in most of Old Salem's buildings. These boxes tell the story of the sites through objects that you can hold in your hands, inside or outside the building. They can be examined alone or by more than one person. Those with mobility, visual, sensory, and other issues will find the Exploration boxes a good way to experience Old Salem their way. If you or someone you are with would like to use one of these, please ask any interpreter.
Old Salem Historic District: Detailed information and mapping for caretakers and those with disabilities. These documents include specific data relative to distances, steps, ADA access, and assistance for those ranging from cognitive to physical disabilities.
Community Advisory Committee
Jenny Garwood – Chair (Old Salem Museums & Gardens)
Franklin Vagnone – President & CEO Old Salem
Val Vizena – Executive Director of The Enrichment Center
Lee Bynum Schwall – Community Advocate
Dr. Aftynne Cheek – Assistant Professor of Special Education, ASU
Mark C. Steele – Executive Director, The Adaptables
Significant efforts in 2017-2018 have been made toward realizing this goal:
Formed a Community Advisory Committee to help Old Salem address the full spectrum of accessibility needs.
Produced a substantial partnership with the Enrichment Center of Winston-Salem. This collaboration will result in Old Salem better understanding the needs of challenged individuals as well as be able to respond to needed environmental changes.
Entered into a partnership with The National Society of The Colonial Dames in America and Appalachian State University (Special Needs Education) to work on projects that deepen our understanding of the historic district's need for expanded accessibility options (paths, sidewalks, ADA ramps, etc.) as well as experience formation. Our first ADA compliant ramp is in the design stage for the Doctor's House (design funded by Averill Family Foundation).
Created a district-wide assessment (see above) of all buildings to determine accessibility (from cognitive to mobility impairments) and created an initial strategic plan outlining the results.
Added "Exploration Boxes"(see above) to all of our interpreted buildings throughout the district. These boxes and bags contain an assortment of touchable artifacts to add sensory-specific experiences for our visitors with special needs.
Transformed our interpretation towards tactile, hands-on experiences that engage both kinesthetic and text-based learners. These kinds of activities are particularly useful for conveying information to those with language processing disorders.
Designed a unique visitor map (see above), which provides district-wide information about walkability, building access, distances, ADA bathrooms, "Exploration Boxes," and Social Stories for those on the autism spectrum. This map will become part of the standard visitor map information so that anyone can utilize the information without having to ask for assistance.
For assistance in planning a visit for those with special needs, please contact the Old Salem Visitor Center 336-721-7350.
---