Access Salem: For Those With Disabilities

Old Salem Museums and Gardens (its Board of Trustees, Advisory Committees, and Staff) is dedicated to achieving the highest possible degree of access for all visitors. Old Salem is considering a wide spectrum of needs from cognitive impairments, autism spectrum awareness, sensory limitations, and language processing abilities to mobility restrictions (all ages). The immediate goal of this initiative is to fully assess the built environment of the historic district to outline needed changes and responses to actual physical access limitations. The long-term goal is to transform the Old Salem experience into one that deeply engages our visitors no matter of physical or cognitive challenges. These experiences should take into consideration our everyday interpretation as well as special programming and community events. Statistics reflect the need for a public heritage site such as Old Salem to significantly move toward a visitor experience that is adaptable for those with special needs. In most cases our disabled guests travel with caretakers, thus expanding the number of visitors affected by inherent experience obstacles.
Click here to download a printable PDF of our Access Salem chart.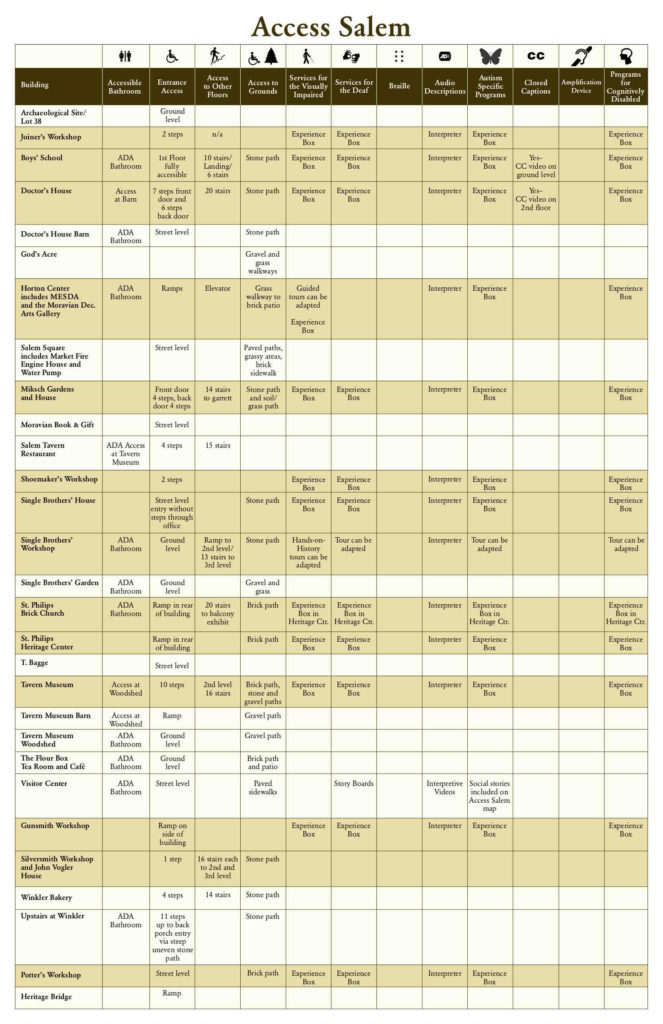 ---
Old Salem Historic District: Detailed information and mapping for caretakers and those with disabilities. These documents include specific data relative to distances, steps, ADA access, and assistance for those ranging from cognitive to physical disabilities.
For assistance in planning a visit for those with special needs, please contact the Old Salem Visitor Center 336-721-7350.
---