Pillars of Our Community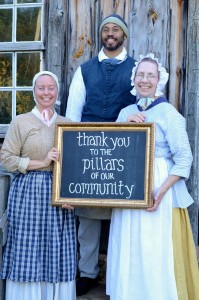 Bonding Together as Business Friends of Old Salem
Old Salem Museums & Gardens greatly appreciates the support of our generous corporate partners involved with the Pillars of Our Community corporate membership program.
Our goal for this program is simple: in addition to bonding together to sustain and enhance the preservation efforts here at Old Salem, we also want to offer your company benefits including significant marketing exposure, guest passes, discounts on rental facilities, and more. Please join us as we sustain the history and culture of our city.
For more information, please contact Director of Development Michelle Cook at 336-721-7331 or [email protected].
HORTICULTURALIST LEVEL $1,000 – $2,499
CONSERVATIONIST LEVEL $2,500 – $4999
HISTORIAN LEVEL $5,000 – $9,999
PRESERVATIONIST LEVEL $10,000 – ABOVE