Student Field Trip Request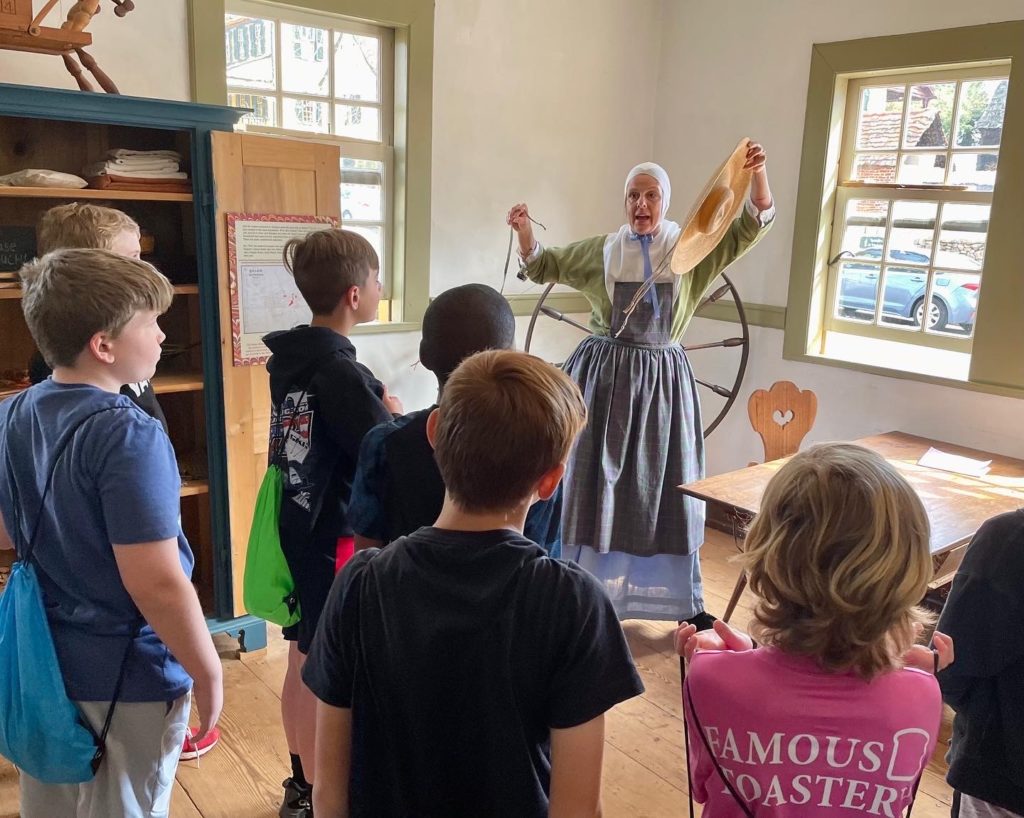 Remaining November & December reservation days
Due to a high volume of requests, the Group Tours Office can no longer accept reservation requests for field trips this November & December, except on the following dates: November 23rd, December 21st, 22nd, 23rd, 28th, 29th, and 30th. Homeschool families and youth groups are welcome to come on these days and the weekends! The programing for November and December dates will focus on Christmas time and the holiday season as the Moravians practiced!
There are no discounts for tickets, the Holiday prices are:
Adult: $28.00 plus tax
Student: $15.00 plus tax
Children (0-3): free
Candle Tea is Hosted by Home Moravian Church
Old Salem Museums & Gardens does not book reservations for the Candle Tea, hosted by Home Moravian Church. Please visit their website for the school day information and how to reserve a spot Home Moravian Church :: School Groups
Salem School Days Spring 2023
Welcome Teachers! Old Salem Museum & Gardens invites you submit your reservation request for Spring 2023. We are open Wednesday, Thursday, and Friday for field trips from February 1st through June 2nd!
Spring Ticket costs
Student tickets, including all applicable taxes: $12.84
Additional adult tickets, reserving through the school, including all applicable taxes: $21.40
The school receives one (1) complimentary adult ticket per 12 students.
If the school opts to not pay for parent chaperones, those parents must pay on their own, and will pay a Day of Rate. Please note that is not currently set, but once a reservation is confirmed with a school, we will notify you in 2023 of the prices.
Teachers, please indicate the deadline your school or county requires to secure a date in the form below.
If you have previously requested a November or December field trip date but have not yet received a call from the office, we will be in touch with you to offer a date in the Spring!
Old Salem Museum & Gardens is closed on Thanksgiving Day (November 24) and Christmas Eve (December 24), and not reserving tours for that day.
How to Request and Book a Field Trip Reservation
Submit your request more than 60 days prior to your desired visit date. Field trips only occur on Wednesdays, Thursdays, and Fridays. Bookings fill quickly! The Group Tours office will not book a reservation for you if you ask less than 60 days before the desired visit date.
Please fill out your request in the form below with several dates of interest. A request does not mean you have secured that date. To secure a field trip date you must complete the following, 60 days before the desired field trip date:
Confirm via email with your Group Tour Coordinator: the headcount of students, teachers, and total number of parent chaperones.
Sign the reservation contract created by the Group Tour Coordinator. This shows the predicted price.
Return the reservation contract to the Group Tours office within 3 business days of receipt.
Pay the full cost of field trip 30 days before the field trip. If your headcount has changed between the original reservation contract and the payment deadline, you can inform your Coordinator no later than 2 business days before the field trip.
Your date is held in earnest when you sign a reservation contract, but if payment is not received on the stated due date, then your tour will be cancelled. The Group Tours Office manages all payments.
Due to a high influx of reservation requests, we are working diligently to respond to you as soon as possible. Thank you for your patience!
Ticket Policies
Old Salem applies a 7% county and state sales tax to all ticket orders.
Old Salem requires each student group to have 1 chaperone per 12 students.
Teachers/Designated Group Leaders receive one complimentary ticket admission per every paid 12 students.
Additional adults outside of the required chaperone minimum must pay the full price tickets.
Old Salem does not refund tickets for "No Shows" on the field trip day. Old Salem provides a "Student Ticket Voucher" for a student who could not attend; this voucher is valid for one year.
The Learning in Place team is thrilled for the opportunity to bring Salem's 18th and 19th century history to life for your students! Thank you!
---
Questions?
Student Group Tour Reservation Requests