Student Field Trip Request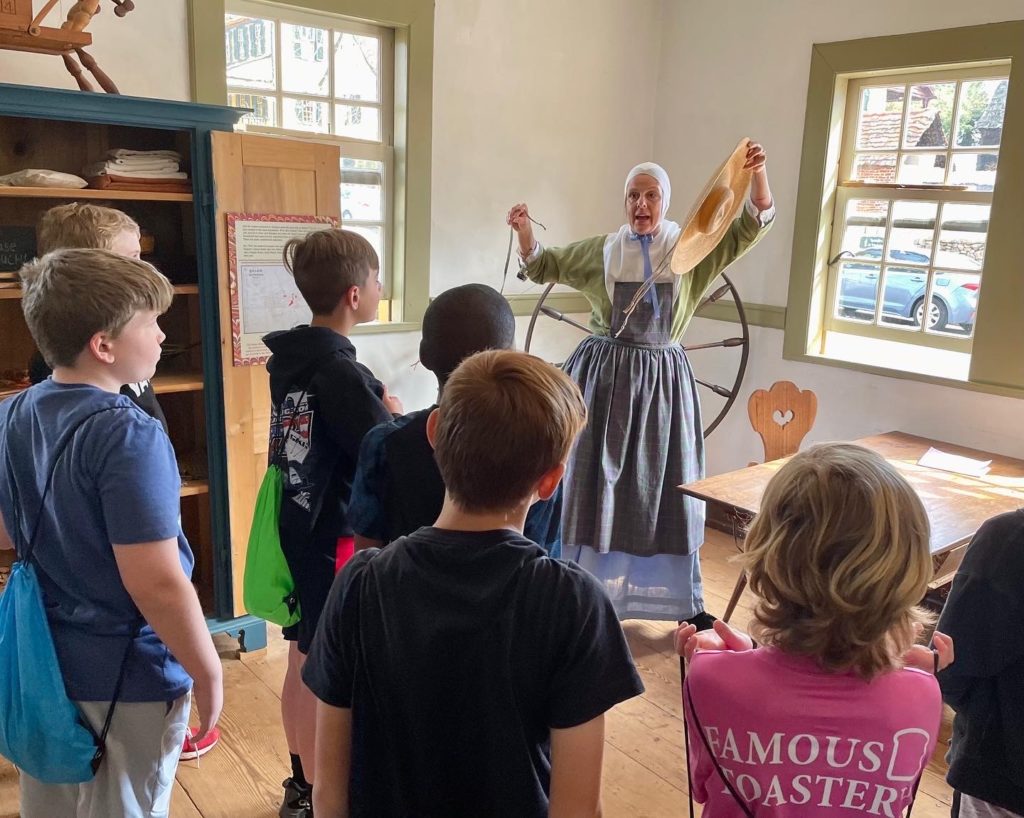 STEAM-Driven Days Field Trip Program Fall 2022 – Spring 2023
Welcome Teachers! Old Salem Museum & Gardens invites you to immerse your students in the STEAM-Driven Days program! Students will enjoy a historically driven footsteps tour involving more interactive hands-on experiences spread through more historic buildings than ever before! The school's teachers and chaperones will guide students throughout the Old Salem historic district, and once the group enters a building, the costumed educators engage your students in period-based STEAM-Driven activities.
STEAM-Driven Days are designed for 1st grade through 12th grade.
Old Salem provides teachers with access to resources for the classroom including videos, lesson plans, and other student activities. Student Group Tour experiences and in-classroom resources and activities are aligned to North Carolina Essential Standards.
Fall 2022 Dates
September 1st – November 11th, Wednesday, Thursday, & Friday
Homeschool STEAM-Driven Fall Date is October 5th
On October 5th, Homeschool groups can participate in the STEAM-Driven Days at Old Salem Museum & Gardens without the crowds of public, private, or charter schools! To book in advance, a homeschool group must have at least 12 students and 1 adult. Smaller homeschool groups will pay on the day of their arrival, the cost is the same.
See the Reservation policies below, and please fill out the form if you have 12 or more students in your homeschool group. Homeschools pay the same rate as public, private, and charter schools.
If you have less than 12 students in your group, you may purchase your tickets online, and check in at the Visitor Center in the morning to redeem your tickets and directed to your tour start!
Holidays in Old Salem Dates
November 16th – December 30th, Wednesday, Thursday, & Friday
The official start to the field trip holiday season is November 16th to December 30th!
Our costumed educators will include Holiday themed activities into our daily program experiences!
Old Salem Museum & Gardens is closed on Thanksgiving Day (November 24) and Christmas Eve (December 24), and not reserving tours for that day.
Winter – Spring 2023
February 1st – March 31st and April 5th – June 2nd, Wednesday, Thursday, & Friday
2023 Pricing TBA
How to Request and Book a Field Trip Reservation
Please fill out your request in the form below with several dates of interest. Bookings fill quickly! A request does not mean you have secured that date. Submit your request more than 60 days prior to your desired visit date. Field trips only occur on Wednesday, Thursday, and Friday. The Group Tours Office will then email to confirm available dates, create the reservation, and then send a contract with instructions for payment. The Group Tours Office manages all payment.
Reservation Deadlines
Secure your field trip date more than 60 days prior to the desired visit date.
Payment is due in full 30 days prior to the field trip date.
Your tour is not confirmed until the signed contract and full payment is received by Old Salem Museum & Gardens 30 days before the field trip.
Old Salem Museum & Gardens accepts check and/or credit card payment over the phone.
Ticket Policies
Old Salem applies a 7% county and state sales tax to all ticket orders.
Old Salem requires each student group to have 1 chaperone per 12 students.
Teachers/Designated Group Leaders receive one complimentary ticket admission per every paid 12 students.
Additional adults outside of the required chaperone minimum must pay the full price tickets.
Old Salem does not refund tickets for "No Shows" on the field trip day. Old Salem provides a "Student Ticket Voucher" for a student who could not attend; this voucher is valid for one year.
Fall 2022 Ticket Costs
Student tickets, including all applicable taxes: $12.84
Additional adult tickets, including all applicable taxes: $21.40
Holiday 2022 Ticket Costs
Student tickets, including all applicable taxes: $14.98
Additional adult tickets purchased with the school will receive a discounted group rate, including all applicable taxes: $27.82
Day of ticket sales for additional adults, including all applicable taxes, pay full price: $29.96
Winter – Spring 2023 Ticket Costs
To be announced
The Learning in Place team is thrilled for the opportunity to bring Salem's 18th and 19th century history to life for your students! Thank you!
---
Questions?
Student Group Tour Reservation Requests