Student Field Trip Request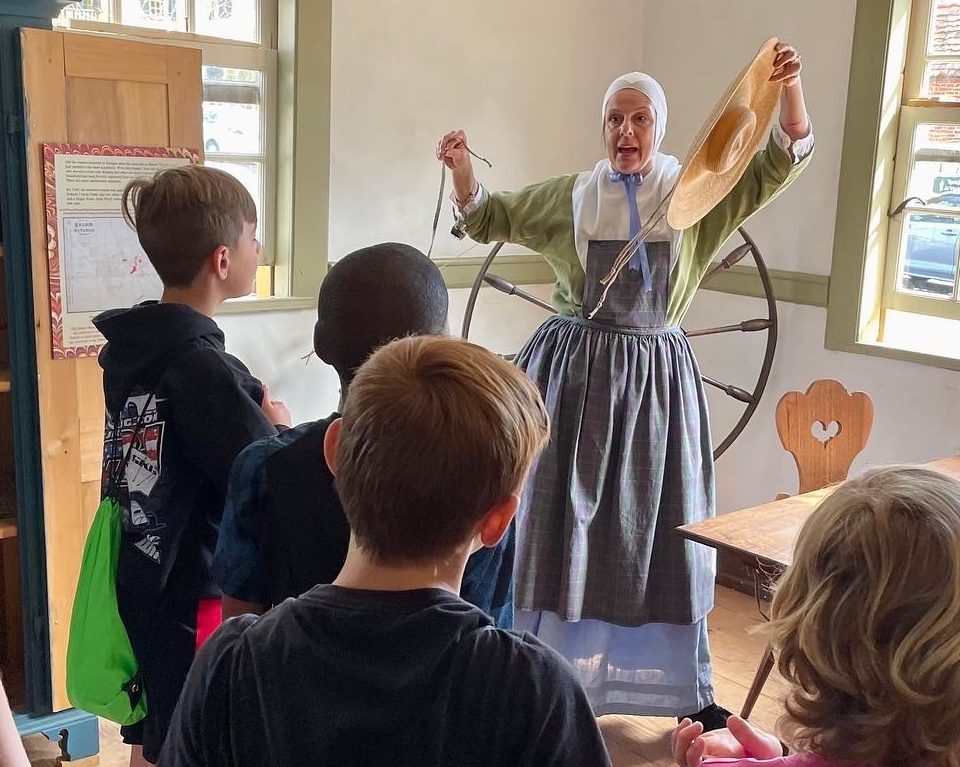 Salem School Days
Spring 2023
Welcome Teachers! Old Salem Museum & Gardens invites you submit your reservation request for Spring 2023 below!
Field Trip Days are Wednesday, Thursday, and Friday from February 1st – June 2nd.
Field Trip Structure
Teachers will pre-arrange their students into groups of 10 to 12 with one accompanying chaperone who is the "Group Leader". The Group Leader guides their group of 12 from one Old Salem program or museum gallery to the next. We host several schools a day, and this format ensures that students are rotated evenly throughout the programs.
Arrival: 9:15 AM at the Old Salem Visitor Center
Lunch: at the time of your choosing, please list in request form below. Picnic tables are located at the Visitor Center, Tavern Annex, and small areas behind the Boys School.
Departure: we encourage you to stay until 2:30 to get the most experience.
Upon arrival the lead teacher and group leaders will receive a map, group starting point, and materials. Students will receive their orientation, then break for bathroom, and their group leader will take their students to the first destination.
Field Trip Program
Your groups will rotate to each of these venues:
The Frank L. Horton Museum Center (including The Museum of Early Southern Decorative Arts): See objects made and used by the diverse craftspeople of the early American South, including the beautiful pieces made by the Moravians, and shop for books at F. L. Horton Bookseller that features a wide variety of books related to decorative arts of the American South.
St. Phillips African Moravian Church: Learn about the history of North Carolina's longest running Black church and explore our ongoing research into the lives of the free and enslaved people of African descent in the town of Salem. Opens February 15th!
The Blum House Joinery Workshop: See how historical woodworking was done in the town of Salem and the craftsmanship that made the Moravian trades shops famous.
Potter's Workshop at T. Bagge: Learn about Salem's pottery history while seeing our talented potters at work.
The Single Brothers' House: This building was home to many of Salem's boys and men. As a combination of a dormitory and a trades hall, it offers an intimate perspective on Moravian culture, faith, and daily life. Experience the lifestyle of a congregation community while learning about the trades, tasks, and shenanigans of many of Salem's real historical people.
Miksch House & Garden: Learn about early family life in Salem, with foodways demonstrations, homemaking activities, and discussing the carpentry and construction of Salem's first buildings.
The Boys' School: Children in Salem went to school just like children today. Learn about education in Salem through hands on games and exploration. See for yourself the Moravian educational philosophy that "All play has purpose.".
Seed Saving Lab: The gardens in Salem are always at work. Learn how gardens support the community, what seasonal garden preparation looks like, and how the seeds tell stories.  
The Doctor's House: Explore the history of Moravian medicine and examine the contributions of African and Cherokee people to the health of those in and around Salem. Learn about the doctor's family and how he dealt with the epidemics and illnesses of his day.
Winkler Bakery: Always a "must do," enjoy a visit at Winkler where Sister Deb will share the bakery's history, including the beehive oven. Our famous sugar cake, cookies, and lovefeast buns will be available for purchase (along with lot of other sweet things).
Moravian Book & Gift: This store is a town favorite, with Moravian souvenirs, and cozy goods for the home and garden.
Muddy Creek Café: Soups, salads, and sandwiches make for a great lunch.
How to Request and Book a Field Trip Reservation
Submit your request more than 60 days prior to your desired visit date. Field trips only occur on Wednesdays, Thursdays, and Fridays. Bookings fill quickly! The Group Tours office will not book a reservation if you ask less than 60 days before the desired visit date.
Please include several dates of interest when filling out your request. A request does not mean you have secured that date. To secure a field trip date you must complete the following, 60 days before the desired field trip date:
Confirm via email with your Group Tour Coordinator: the headcount of students, teachers, and total number of parent chaperones.
Sign the reservation contract created by the Group Tour Coordinator. This shows the predicted price.
Return the reservation contract to the Group Tours office within 3 business days of receipt.
Pay the full cost of field trip 30 days before the field trip. If your headcount has changed between the original reservation contract and the payment deadline, you can inform your Coordinator no later than 2 business days before the field trip.
Your date is held in earnest when you sign a reservation contract, but if payment is not received on the stated due date, then your tour will be cancelled. The Group Tours Office manages all payments.
Spring Ticket costs
Student tickets: $12.00
Additional adult tickets, paid with the school: $23.00
The school receives one (1) complimentary adult ticket per 12 students. This is suggested for the teachers. Old Salem does not offer complimentary tickets to bus drivers.
If the school opts to not pay for parent chaperones, those parents must pay on their own, and will pay a Day of Rate of $27.00
A 7% sales tax for county and state will be applied to each ticket value.
Ticket Policies
Old Salem applies a 7% county and state sales tax to all ticket orders.
Old Salem gives 1 complimentary adult ticket per 12 students.
Additional adults outside of the required chaperone minimum must pay for their ticket. The adults can pay through the school's contract to receive a discount.
Old Salem does not refund tickets for students or adult "No Shows" on the field trip day. Old Salem provides a "Student Ticket Voucher" for a student who could not attend; this voucher is valid for one year.
The Learning in Place team is thrilled for the opportunity to bring Salem's 18th and 19th century history to life for your students! Thank you!
---
Questions?
Student Group Tour Reservation Requests
Teachers must submit a formal request through this form, in order to start the processing of booking a tour. This form does not guarantee a date or reservation, that step is completed through communication with the Group Tours office, signing a contract, and receiving payment 30 days before the field trip.
How will I know that you received my request?
When you hit submit, the webpage will reload. Scroll to the bottom for a confirmation that your form was received. If this does not occur, you will need to submit it again. The Group Tours office will send you an email directly to plan the trip.