Field Trip FAQ
Frequently Asked Questions for Student Field Trips
Reach the end of this list and still have questions? We're here to help. Call the Group Tours Office at 336-721-7345 for more!
IMPORTANT! Your reservation is not confirmed until the Group Tours office receives a signed reservation contract. It is finalized/booked when our office receives your payment 30 days prior to your trip.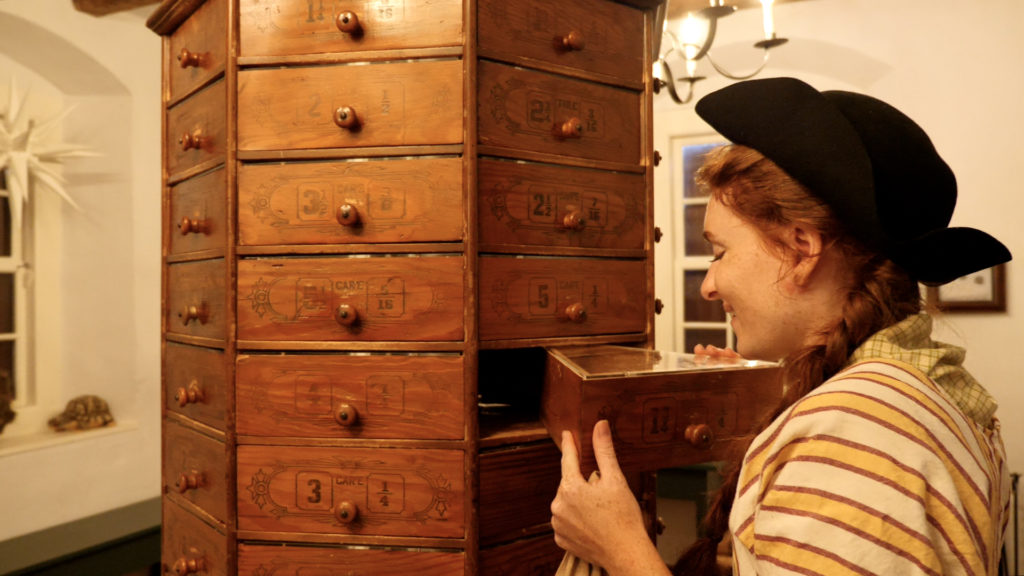 When do you offer field trips?
Old Salem Museums & Gardens is open for field trips Wednesday-Friday, 10am-4pm. Old Salem is closed to the public for the month of January. 
What are your ticket prices?
Ticket prices change seasonally, we update our prices frequently on our homepage! 

7% county/state sales tax is applied to all orders.
We offer one complimentary adult ticket for every group of 12 students. 
Do you still offer tours of the Single Brothers' Workshop?
A new hands-on tour is in the works but not yet available for booking. We hope to announce it sometime in 2024. 
What buildings are going to be open?
Please visit our webpage under "Plan My Visit", select "Open Venues & Time", Open Venues & Time – Old Salem Museums & Gardens This page will provide you with all of the information about each open venue. 

Not all buildings will be open for interpretation. There are private residences in the district – please be respectful of their privacy. 
Will there be a guide to show us around?
No. The tour is self-guided, this means it is up to you and your Group Leaders to take your students around to building to building. 

Once you enter into an open venue/building, our costumed interpreters will guide you through the building. 
How long is the tour?
The tour will last between two and a half hours and three hours. Put on your walking shoes! Allow time for a lunch break, about 30 minutes to an hour. 
When do we need to pay for our trip?
Old Salem Museums & Gardens requires payment 30 days prior to your trip. You may pay via credit card over the phone with your Group Tours Coordinator or via check. 
Can the students bring a lunch?
Yes! We strongly encourage bringing bagged lunches for your students! When you arrive on the morning of your trip you are welcome to leave them on the bus in a large cooler/container or with our staff at the Visitor Center. 

For the adults there is only one place to get food from. Muddy Creek Café is located on the lower level of the T. Bagge building.
You can have something delivered to the Visitor Center for your lunch. 
Where can we eat lunch?
There are picnic benches located at the Visitor Center. Your students are welcome to sit at the benches on the concourse as well. Under certain weather conditions, schools may take their lunch inside the Visitor Center.  

Please clean up after yourselves and be respectful of your surrounding area. Please do not eat your lunch on the carpeted areas!
What time is lunch?
Lunch time is determined by the teachers. There is no set time for you to eat lunch. Lunch time is whatever time works best for your schedule. Schools have to leave early sometimes and take an early lunch. Some schools stay later and thus have a later lunch. 

Upon your arrival please let a Group Tours Coordinator know what time you will be returning to the Visitor Center for lunch. This allows us to give our staff a heads up and prepare accordingly. 
Do we pay to park our buses at the Visitor Center?
No. We do not charge a fee to park your buses. Parking is free for buses and your parent chaperones. 
How do we get into Old Salem?
It is imperative that you and your students enter into the historic district via the Heritage Bridge from the Visitor Center! This is the safest way to cross the busy road. Do not under any circumstances cross the road via Walnut Street.
What if a student is absent on the day of our trip?
The student(s) who are absent will receive a Student Ticket Voucher. This voucher is redeemable for one year. They can come at a later time with their parents. The parents will need to purchase a ticket. 

We do not offer refunds to parents who could not make the trip. 
Do homeschool groups need to make a reservation?
If you plan on bringing 12 or more students for a trip please make a reservation with the Group Tours office. If you have 11 or fewer students, you are welcome to come on the day you want to visit and purchase your tickets on that day. 

Keep an eye on our webpage for Fall Homeschool Days! This will be a limited online ticket sale only! 
Do homeschool groups receive a discount?
Homeschool groups of 12 or more students will pay the same ticket prices as a regular school. 
Do Title 1 schools receive a discount?
Old Salem Museums & Gardens welcomes all schools. At this time we do not offer discounts for Title 1 schools.