Arts Alive Student Group Tour - Where History & Creativity Collide
Wednesday, March 18, 2020 9:30 AM - 4:30 PM
This event will also occur March 19, 2020.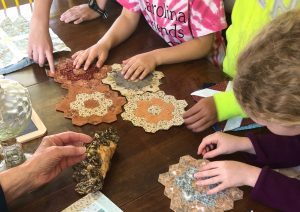 The Moravians, who founded Salem in 1766, were widely known for their music as well as their trades and crafts: pottery, cabinetry, guns, silver and tin wares and textiles. Music and the arts were interwoven into the daily life of Salem through work, worship, and education. On high-volume days there is a short 15 minute, interpreter-led welcome, which includes a quick organ concert on the rare c. 1800 Tannenberg Organ, an overview of material culture at the Museum of Early Southern Decorative Arts, and the social history of African-Americans at St. Philips Heritage Center. After the welcome, your options are wide open to choose. There are over 25 interpreted sites, and 100 acres of landscape to experience with a special emphasis on arts-related hands-on experiences. 
Program Details::
Available (9:30 a.m.–4:30 p.m.) on March 18 and 19, 2020
Tours begin at the Visitors Center.
Tour takes approximately 3+ hours.
Come when you can, leave when you must.
Possible experiences that you might have:

Try your hand at making a Theorem painting using a stencil.
Learn how the Moravians made a beautiful decorative paper, called paste paper.
Learn about the legacy of sacred music and its importance to the Moravians.
See the Moravian influence in pottery designs in both utilitarian wares and decorative pieces.
Learn about African masks and jewelry; make your own personal adornment.
Explore the art of making an American Longrifle.
Find out how vegetable garden in the 18th century is both a visual work of art as well as a necessary part of life by exploring the gardens at the Miksch House.
See pictures in cookies by observing gingerbread cookie molds being carved, and view one of the original molds carved by Brother Vogler.
And many more activities and demonstrations.

Price: $18 per student.  One (1) complimentary adult per 12 students. Additional adults are $23 if booked and paid in full with the school reservation (required)  no later than 30 days prior to tour.
Contact Group Tours at 1-800-441-5305, or [email protected] for additional details. Please refer to our Access Salem Initiative for information regarding visiting as a caretaker or a student with a disability.