Autumn Leaves Tour
Friday, November 2, 2018 12:00 PM - 1:30 PM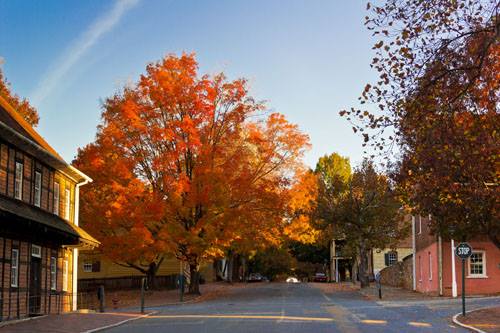 Tour Description:  Encounter the fall color of native trees in the beautiful historic setting of Old Salem! A multi-chromatic experience is set off by the texture and form of ancient buildings.  Toby Bost will lead a fascinating tour of Old Salem's trees, discussing not only characteristics of each species and historical uses, but also the value of trees in the landscape today and how they might work in your yard, or as street trees, etc.   Mr. Bost is a certified arborist, horticulturist, author, and Field Faculty Emeritus, North Carolina State University.   Participants will receive "A Walking Guide to the Trees of Old Salem".  Old Salem's trees have been recognized by Treasure Trees of Forsyth County,a program of NC Cooperative Extension.   Tour duration is 1 1/2 hours.  We recommend comfortable shoes and water bottles.
Cost: $19.00 per person
Location:  Meet at the Marketplace-Fire Engine House on Salem Square
To register on line click here
*For ages 9 and up.  Children under 18 must be accompanied by a paying adult.  Adults are not allowed to observe or tag along with a child unless they have also registered. If participant cancels more than 14 days before the event, a full refund will be given.  Within 14 days there are no refunds. For more information call 1-800-441-5305.
District Wide – Please check the Universal Access side of your Visitor Map