Christmas by Candlelight Guided Tours 2019: Crafting Community
Friday, November 15, 2019 6:30 PM - 8:30 PM
Please note this event is offered several dates and times.  Click on the registration link to see your options.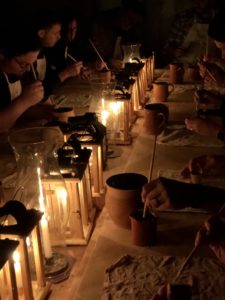 November 15, 16, 22, 23, 29, & 30,  2019 and December 6, 7,13, 14, & 20, 2019
Tour times: 6:30 p.m., 7 p.m., 7:30 p.m., 8 p.m.  
Tour Description:  Don't just watch – grab a lantern, an apron and join us for an interactive evening of Christmas community– Old Salem style!  Every year at Christmas, the residents of the town of Salem built small replica villages, houses, and landcsapes called a "putz".  Often, they would build miniature versions of the their own & neighbors' houses and out buildings.
This year take the time to walk Main Street, visiting historic houses, and sit with us as we make wood versions of the town of Salem, learn about the traditional egg tempera paint process used by the Moravians, and paint your own versions of the famous Miksch and Vogler Houses. All of this while you listen to the sounds of traditional Christmas music.
After all your hard work, join us around the fireplace in the Single Brothers Workshop kitchen to create a small scale putz with your fellow tour members at our holiday gathering, enjoy all of the Moravian baked goodies of Christmas, decorate our pyramid tree, and toast Christmas with a special drink . (P.S. – you get to take home your putz Miksch and Vogler Houses as our gift!).
Content is suitable for all ages. These tours change every year, so if you have experienced one in the past – you will be happily surprised by this new tour.  A perfect "date night", "family night", or an annual Christmas gathering for you and your friends.
Cost:  $65 per person.  As a fundraising  effort, proceeds from these tours go toward covering the expenses of educating the 45,000 school children who visit Old Salem Museums & gardens each year.

Tour Location:  Tours will leave promptly at tour times from the Boys School, 3 Academy Street. Please plan to arrive 15 minutes prior to your selected tour start time. Tours last approximately 90 minutes.
Please wear comfortable shoes as this tour includes a fair amount of traveling on rough stone paths, uneven brick surfaces, grass, and asphalt.
Boys' School – Fully ADA accessible, ADA restrooms
Miksch House – 4 steps up from street level
Vogler House – one step up
Single Brothers Workshop Kitchen – Fully ADA accessible. ADA restrooms
To register on line click here.
*Space is limited and pre-registration is required (walk-ups cannot be accommodated). Participants under the age of 18 must be accompanied by a registered/paid adult. Please note these tours involve walking on rock and brick paths, as well as staircases.  Tickets are non-refundable unless event is cancelled by Old Salem Museums & Gardens (extreme weather conditions, etc.)