Hands-On Summer Saturday Workshops: Pewter Spoon Workshop
Saturday, July 21, 2018 3:00 PM - 4:00 PM
Workshop Location:  The Boy's School – 3 Academy Street, 1:30 p.m. to 3:30 p.m.  Saturday, August 11, 2018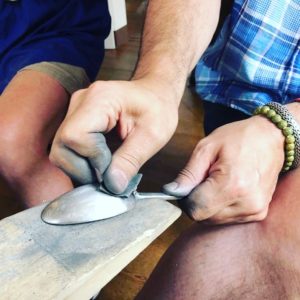 Fun for the whole family!
Experience history hands-on!  Lean how pewter is melted and molded into spoons.  You will use a file and other tools to refine and polish a 19th century pewter spoon to take home with you.
For ages 12 and up – participants under the age of 18 must be accompanied by a registered adult.  Adults are not allowed to observe or tag along with a child unless they have also registered.
The cost of this workshop is $50 per person.  Register on line at click here.  For more information call 1-800-441-5305.
* Maximum of 12 per class
*If participant cancels more than 14 days before the event, a full refund will be given. Within 14 days there are no refunds.
Boy's School – Fully ADA accessible, ADA restrooms