Special Needs St. Nick
Sunday, December 15, 2019 1:00 PM - 4:30 PM Butner Hat Shop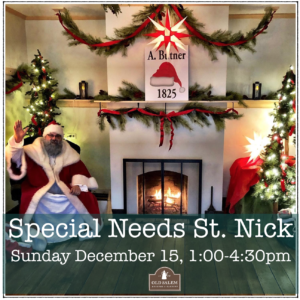 This event is open only to those with disabilities who require unique situations.
As part of our ACCESS SALEM Initiative, Old Salem Museums & Gardens is facilitating a day with St. Nick for our friends with special needs. The Butner Hat Shop has been transformed into a quiet, comfortable room that provides a space that can be quiet and calming to our visitors with unique sensory requirements.
 WHAT: Special Needs St. Nick
WHEN: Sunday, December 15th 2019, 1:00 PM until 4:30 PM
WHERE: Butner Hat Shop, Main Street in the historic district, 525 South Main Street, Winston Salem, NC 27101
COST: Free for those with disabilities, donations to cover the cost of the event will be accepted but not required. 
Butner Hat Shop is fully accessible from the street.