Salem Saturdays in Winter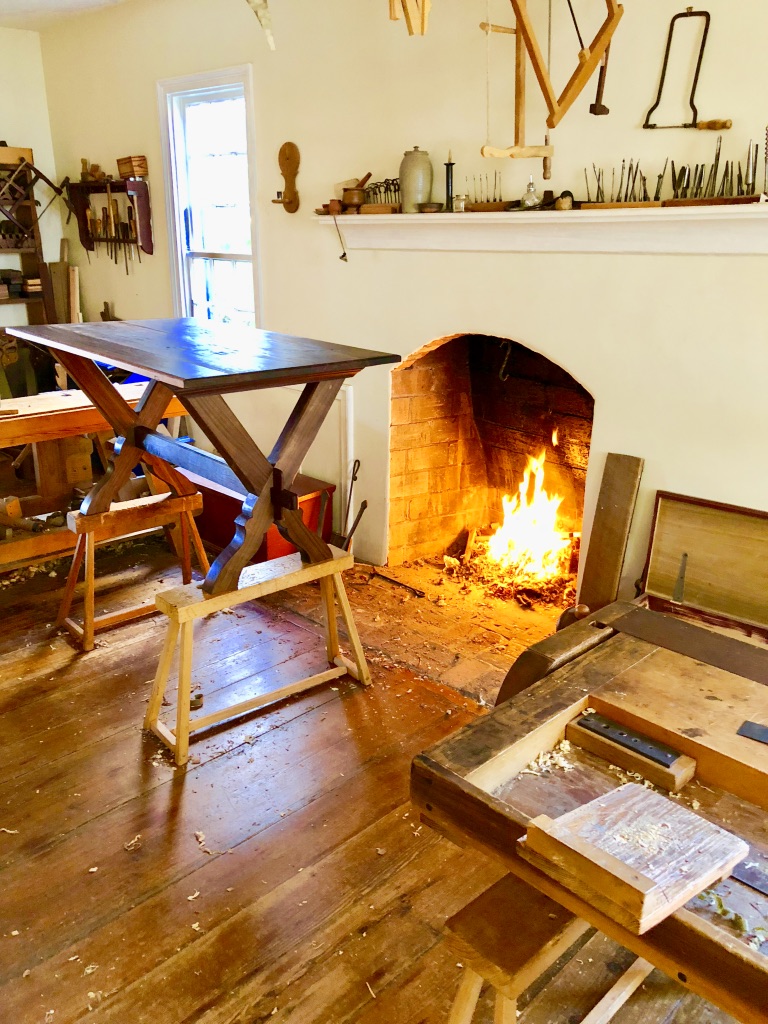 Salem Saturdays in Winter: Repair, Plan, & Create (Tools, Gardens & Needlework)
What do you do when it's cold outside, the skies are gray, and you have nothing but time on your hands?  Come and find out at Old Salem's "Salem Saturdays in Winter." In many ways, winter was one of the busiest times of the year in 18th and 19th century Salem.
The winter season in the village of Salem was full of hidden activity and behind-the-scenes preparation for the long hot days of summer.  The first cold months of the year were spent planning the gardens and crops, fixing the heavily-used tools, building and repairing furniture, mending and producing domestic textile materials for use, and continuing the education and apprenticeships for the young members of the town.
Bring your family and join us in these fascinating, rarely seen, preparations and repairs at the NEW Old Salem for an all-day (or two-day) experience. Spend some quality family time with us exploring all of the history within the new kid-friendly "please touch" buildings, take one of our popular "Hands-On-Workshops", stroll Main Street, and do a bit of shopping in our fabulous "Merchants of Old Salem" (a new batch of our bespoke Salem pottery will be waiting for you).  It truly is a special time at Old Salem – just for you and your family.
Salem Saturdays in Winter (Included in an All-in-One ticket)

"Salem Sleuth." Let the little ones enjoy Salem while they keep their eyes open in our scavenger hunt.
Winkler Bake Day.  Saturday is bake day at Winkler Bakery and a great time to see the beehive oven in action!
Miksch Gardens & House.   Learn how tiny seedlings thrived in the bitter cold and how winter foods were prepared out of the garden and cellar. We may be working on knitting warm woolen mittens, spinning yarn or making soap, so come find out what is happening today!  

John Vogler House "Quilting Frolic."  Unlike any other house museum, take a seat and chat while you try your hand at our group quilting party.
The Joiner's Workshop. Come and see the joiners as they work to restore the 1815 Blum House using the tools and techniques of the Moravian joiners for hundreds of years.  Try your hand at using a bench plane to prepare the wood for windows, doors, and shutters or see how they recreate an old world work bench initially made by the joiners in the 18th century. Be prepared to try your hand at the lathe or the hand-plane.  This stop is a place for those who like to try things out.
Boys' School.  Explore the cabinet of curiosities as well as the many other teaching tools used for learning music, geography, mathematics, natural history, languages and more! Impromptu concerts played on our pianoforte are not uncommon.
Gunsmith Workshop. From forge to file and from metal to wood.  A combination of materials plays a role in the gunsmith's trade. Explore the many specialty tools used in this shop.
Potter's Workshop. Our potters are ringing in the new year by restoring our molds to their former glory. Learn about the tools and process of 18th-century mold-work. 

T. Bagge Merchant. People come from all around to buy the unique items in our stores. We will have Saturday sales and live craftsman presentations. Take home one of our newly glazed pottery items.
Salem Tavern Museum Kitchen & Barn. Pickled, Salted and Smoked: see how food preserved in the fall turns into tasty meals during the winter.
"Hidden Town" Room of Meditation & Reflection. Spend some quiet time in our room dedicated to those who were enslaved in Salem.
St. Philips Heritage Center. The entire family can learn about the African-American legacy that grew out of the Moravian town of Salem.
Museum of Early Southern Decorative Arts. From trees to tables and dirt to dishes, take a closer look at the tools, trades, and traditions, behind the amazing objects in our toasty warm MESDA Galleries.
Single Brothers' House. Sit, lie down, open drawers, and journal in the unmarried men's communal living quarters. See what it was like to live in the 1700s.  Explore textiles in our tailor's shop, weave shop or find out how they stayed as "snug as a bug in a rug!" Don't miss our new "Salem Waterworks" exhibit or our textile craftsperson working the loom.
Doctor's House. Dispel winter blues by exploring medicinal plants used in the 19th-century Apothecary. Put your hand to mortar and pestle, learn how to concoct teas used throughout time to lift spirits and soothe the soul.
Visit our new Salem Stitches Free open sew to work on a new Vogler House Quilt #3, workshop space (lower level on the rear of Moravian Book & Gift). Salem Stitches closed Feb-12.
White Glove Tour: Made in the South. January 4, 11, 18, 25th  at 11:00 am; $20 additional ticket required.

Put on your white gloves and get up close and personal with the centuries-old objects at our Museum of Early Southern Decorative Arts where you will learn about the diverse craftsmen who made them, the families who cherished them as precious heirlooms, and how we preserve these works of art for the future.
White Glove Tour: Hidden in Plain Sight African American Craftsmen in the Early South. February 1, 8, 15, 22 and 29th at 11 am, $20 additional ticket required.

Put on your white gloves and touch the past as we explore the often hidden stories of African American craftsmen like cabinetmaker Thomas Day, enslaved potter David Drake, and others whose names are lost to history.  This tour is part of Old Salem Museums & Gardens Hidden Town initiative.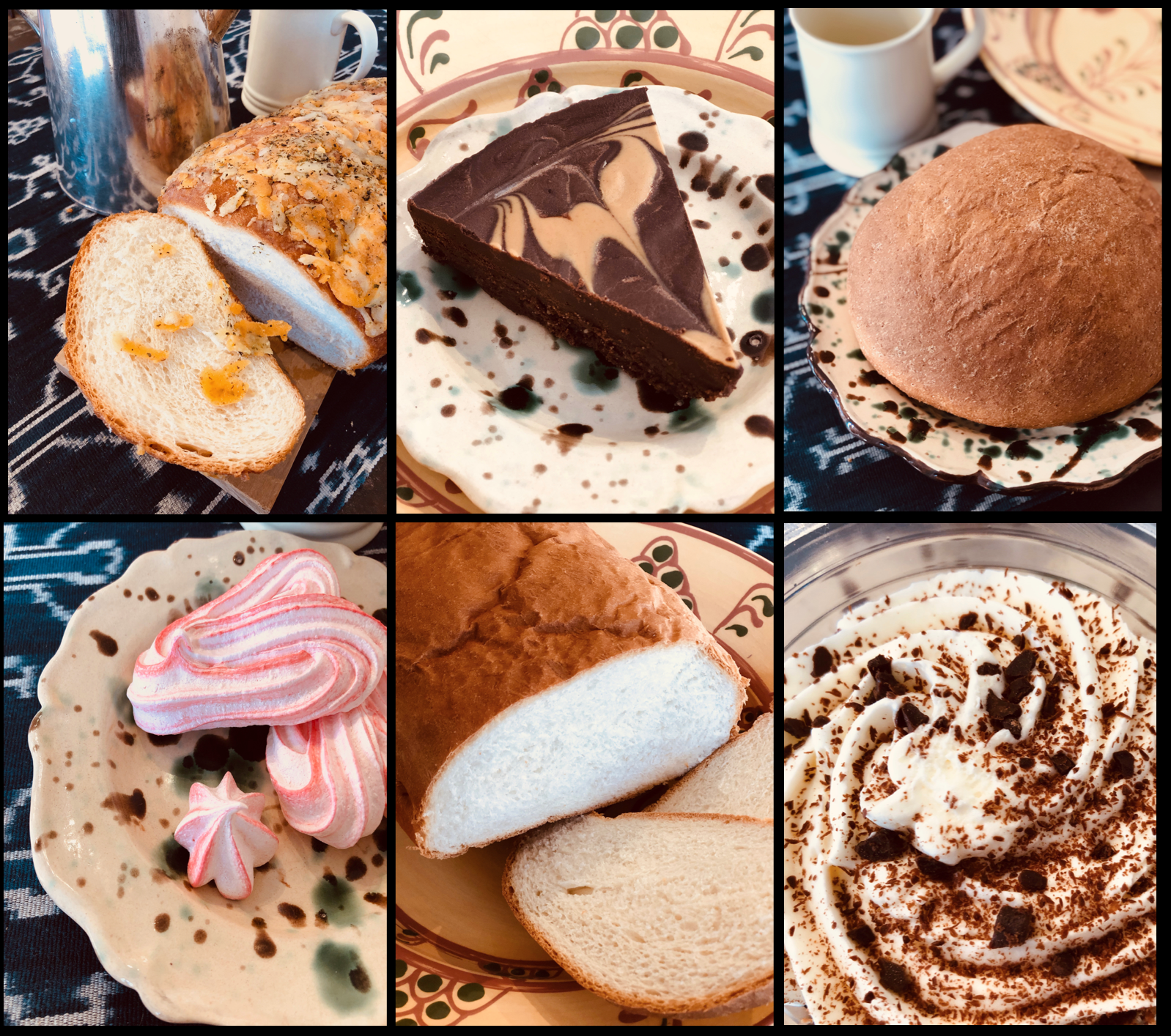 January "National Wheat Bread Month"  WINKLER BAKERY SALE:  Honey Wheat and Chocolate Pie   Sold at Winkler Bakery.

February "National Chocolate Lover's Month"  WINKLER BAKERY SALE:  Chocolate Ginger Bread, Chocolate Banana Bread and Chocolate Covered Strawberry Mini Bunt Cakes.  Sold at Winkler Bakery.

March "National Flour Month"  WINKLER BAKERY SALE: Hot Cross Buns and Orange Cranberry Spice Cake.  Sold at Winkler Bakery.

Visit the Merchants of Old Salem and take a look at our HANDCRAFTED SALEM +1766 Pottery and other handcrafted items.