THINGS: The LIVE Program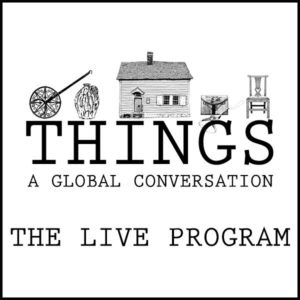 THINGS: A Global Conversation
is an online program that features curators, makers, and other experts from around the world in conversation with people and objects from the Old Salem and MESDA collection. You're invited to join the conversation via Zoom. Our things may be old, but the lessons we can learn from them are as contemporary and relevant as ever!
THINGS: Rooted in Place, A Global Conversation about Timber and Trade
February 3, 2021 @ 1:00PM EDT (17:00 GMT)
Tickets are FREE with a donation in any amount*
Daniel Kurt Ackermann, PhD
Chief Curator, Old Salem Museums & Gardens and the Museum of Early Southern Decorative Arts
Winston-Salem, North Carolina, United States of America

Adam Bowett, PhD
Furniture Historian and Author
Ripon, North Yorkshire, England, The United Kingdom
Trees are rooted in place until they are uprooted by economic and cultural forces and crafted into buildings and furniture. In about 1650 an English-trained craftsperson in Jamestown, Virginia, skillfully combined three locally grown woods—southern yellow pine, American black walnut, and oak—to craft a court cupboard for Mary and Thomas Hill. In the 1690s, William Blathwayt, a English colonial official, used his connections in Virginia and Carolina to secure American black walnut and red cedar to construct a pair of imposing staircases at his Dyrham Park estate. These two things—as well as their makers and their patrons—used American woods to make a statement about place, figuratively and literally, within England's colonial structures.
In this episode, curator Daniel Ackermann and furniture historian Adam Bowett will explore how American woods found their way into furniture and buildings on both sides of the Atlantic, first as exotic species, and then, by the middle of the eighteenth century, as and commonplace commodities.  They will also explore how the available of these American wood affected the design, construction, and consumption of furniture in the 17th and 18th centuries.
*We know many of our colleagues and friends are feeling the financial strain of the COVID-19 Pandemic. Therefore, we are asking you to pay what you wish to help us keep these informative conversations going. If you can't make a donation right now, that's OK too.
Follow this LINK to request a FREE ticket without a donation.
–Also available on: