THINGS: The LIVE Program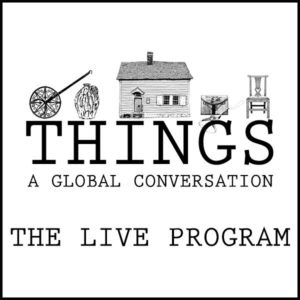 THINGS: A Global Conversation
is an online program that features curators, makers, and other experts from around the world in conversation with people and objects from the Old Salem and MESDA collection. You're invited to join the conversation via Zoom. Our things may be old, but the lessons we can learn from them are as contemporary and relevant as ever!
THINGS: A Global Conversation About the Tools of the Trade, Resistance, and the Decorative Arts of Enslavement
February 3, 2021 @ 7:30PM (00:30 GMT)
Tickets are FREE with a donation in any amount*
Michael J. Bramwell
Visiting Guest Curator, Museum of Early Southern Decorative Arts at Old Salem
Winston-Salem, North Carolina, United States of America

Dr. Jon F. Sensbach
Professor of History at the University of Florida and author of A Separate Canaan and Rebecca's Revival
Gainesville, Florida, United States of America
Whether it was the ancient Hebrews under African captivity in Egypt or Black Lives Matter activists protesting injustice on the streets of Minneapolis, resistance is an inexorable and transhistorical tendency among oppressed people. In this conversation, the social biography of a leather whip and a brass speculum oris help identify a new venue for resistance within American decorative arts and reveals a history of how enslaved joiners and coopers, potters and silversmiths, built a road to freedom by the work of their hands. This conversation will help dispel the myth that enslaved artisans were content to perfect their craft for the benefit of others. These artifacts were designed to subdue a turbulent spirit and inform how that same spirit animates contemporary American politics.
NOTE: Registration closes at 11:59pm on February 2nd
*We know many of our colleagues and friends are feeling the financial strain of the COVID-19 Pandemic. Therefore, we are asking you to pay what you wish to help us keep these informative conversations going. If you can't make a donation right now, that's OK too.
Follow this LINK to request a FREE ticket without a donation.