Learning in Place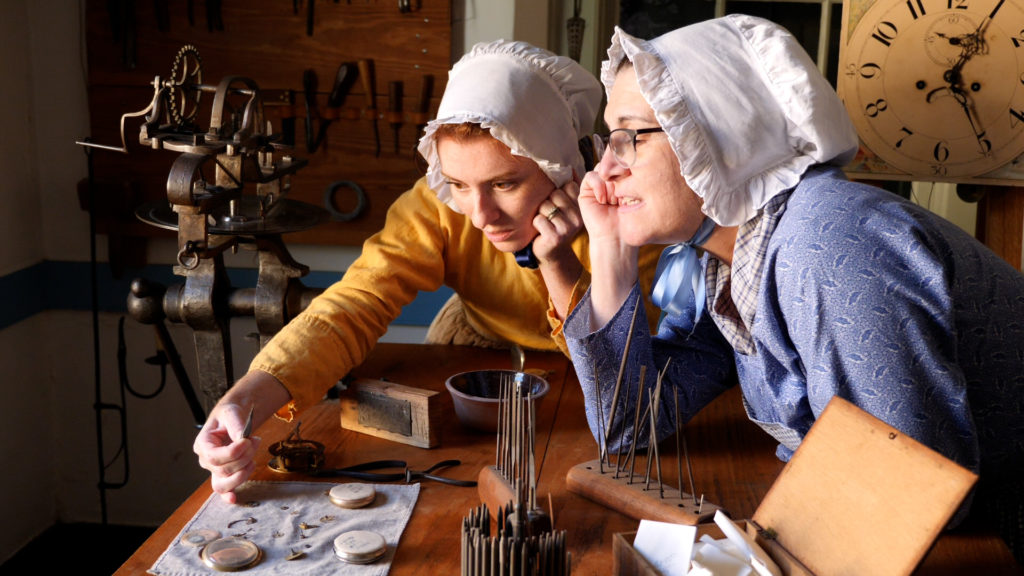 About Old Salem's Learning in Place Initiative
"Every philosophy is, like poetry, an aspiration to joy and every poem is a tool for knowledge."
Learning in Place is Old Salem Museums & Gardens' educational initiative organized around the concept that history can be the framework upon which contemporary life-skills and educational opportunities can be experienced. Far from merely an enjoyable nostalgic environment with costumed staff, Old Salem Museums & Gardens is an educational institute capable of presenting deeply philosophic, complex, and curriculum-based subjects through purposeful interpretive educational innovations.
Learning in Place seeks to actively investigate the relationship between the built environment (buildings & landscapes) and the experiences of those who inhabited them (narration). The initiative seeks to use place in poetic ways that present the historic district as the physical "chalkboard" for teaching and the Moravian narratives as the "text" in discussing contemporary life skills.
Initiative Description: Organizing experience in a narrative form to build collective meaning.
The Learning in Place initiative will be tasked with:
The continued transformation of the interpretive activity within the Old Salem historic district toward immersive and experience-based tactile activity.
Using the Moravian experience as the framework, create, formulate, and execute new place-based, real-world themed narratives expressed through innovative educational engagements byre-envisioning the existing interpretive model to manifestly engage visitors with experiences that incorporate the arts, communication arts, mathematics, social studies, science, and the world of work.
Particular attention to be focused on:
In addition to History scholars, expanding the education team to include experts in a wide range of disciplines such as the arts, science, communication arts, mathematics, science, and career-technical education.
K-12 curriculum needs of school districts within a 5-hour travel time to Old Salem Museums & Gardens.
The emergence of Old Salem Museums & Gardens as a professional service provider for educators. Adult hands-on.
The particular needs of Title 1.
The Hidden Town.
Goals:
Form substantive partnerships with colleges and universities for the exchange of ideas and information through research, teaching, conversation and collaboration.
In partnership with Salem College, offer place-based learning professional development opportunities for educators.
Collaborate with area K-12 schools whose demographic profile suggests that having access to Old Salem Museums & Gardens and its educational programming may be challenging for the purpose of engaging these students, faculties, and families in Old Salem.
Significant efforts have been made towards reaching these goals:
Welcomed Wake Forest University as a program partner for the Hidden Town Project. WFU serves as a sponsor for the Elizabeth Chew lecture and is a contributor in our public archaeology efforts.
Introduced collaborative project with the Digital History program at Middle Tennessee State University. PhD candidates from MTSU's Digital History program initiated the incredibly informative "Hidden Town in 3D" project to record the historic area through digital photography with the goal of creating a platform for consideration of the landscape with the enslaved population.
Partnered with Middle Tennessee State University's Department of History in the 2018 Summer Institute at the Museum of Early Southern Decorative Arts (MESDA) here at Old Salem to provide in-depth, practice-based education in the decorative arts and material culture of the early American South with a focus on the contributions of the enslaved population.
Established a new collegiate internship program with Salem College and Wake Forest University now providing student interns to assist with Hidden Town research efforts.
Formed a partnership with UNC-School of the Arts, and Winston-Salem State University to re-imagine the music of the Afro-Moravians in Salem through the production of "The Sounds of Hidden Town."
Collaborating with North Carolina State University on a ground resonance study of the Old Salem historic district to locate sites of possible slave dwellings as part of the Hidden Town Project's continued research.
Entered into a partnership with Appalachian State University and the Appalachian State University Academy at Middle Fork to develop K-5 social studies curriculum for the lab school, provide educational outreach programming for the students and staff, and serve as a host site and collaborator for ongoing teacher training. In exchange, ASU faculty has provided engagement and accessibility assessments of our tour sites.
Established a relationship with Salem College's Department of Education to create a Teacher Institute that will provide place-based professional development opportunities for K-12 educators.